Follow us on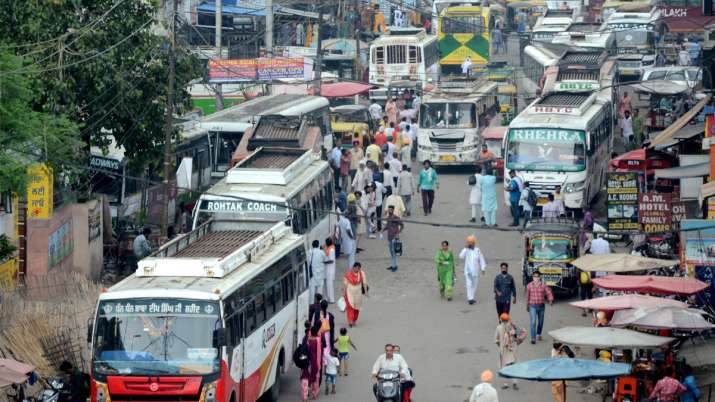 The Punjab government has made negative Covid-19 report or full vaccination mandatory for all people intending to visit the state. The new rule will come into effect from Monday. The government has also asked agencies to ensure strict monitoring particularly of those coming from Himachal Pradesh and Jammu, which are showing increased Covid-19 positivity.
According to a statement issued by the state government, Chief Minister Amarinder Singh has said that all persons intending to visit the state shall carry their Covid-19 vaccine certificate (double doses) or a negative RT-PCR test report not older than 72 hours w.e.f. August 16.
The Chief Minister has also ordered an increase in number of Covid tests to at least 60,000 per day. His statement comes amid projections that cases will double in about 64 days at the current growth rate. At present, the Covid tests are in the range of 45,000 to 49,000 per day.
Reviewing the state's preparation for an imminent third wave, Singh directed the health department to undertake priority sentinel testing for patients at government and private hospitals, travellers at entry points, government offices, industries and labour colonies etc. Based on this, districts should formulate strategies for micro-containment zones, he said in a statement.
Also, the CM virtually inaugurated a Children's Covid ward as well as PSA (Pressure swing adsorption) oxygen plants in Ludhiana and Faridkot. The Covid paediatric ward at Civil Hospital, Ludhiana, has five Paediatric Intensive Care Units (PICUs) and eight multisystem inflammatory syndromes in Children (MISC) beds.
He announced that the government would be augmenting the PICU and level 2 paediatric beds capacity in all 23 districts and four government medical colleges and hospitals to 1,104 paediatric beds. He said a total of 76 PSA are being installed in the state, with 48,832 litres per minute oxygen generation capacity.
Punjab on Friday reported 89 new cases of the coronavirus, taking the infection count to 5,99,846. Amritsar reported 19 new COVID-19 cases, followed by 12 in Kapurthala and 10 in Mohali. With 53 recoveries from the infection, the recovery count reached 5,82,944. With no Covid-related death reported on Friday, the toll stood at 16,334. The number of active cases rose to 568 against 533 on Thursday.
 Meanwhile, the CM also asked the health department to gear up for full utilisation of the additional vaccine supply, of which he had been personally assured by the Union Health Minister. The state had been assured of 25 per cent increase in vaccine supplies. He said more than half of the eligible population of the state had already received one dose of vaccine, with the entire available stock being used without any wastage.
Incidentally, the first dose of Covid vaccine has been administered to around 82 lakh people (40 per cent of state's eligible population) and second dose to nearly 24 lakh people (11 per cent of eligible beneficiaries), which, said the CM, has the capacity to vaccinate eight lakh people per day.
READ MORE: India reports 38,667 fresh COVID cases in 24 hours, 478 deaths
READ MORE: Covishield: SII chairman Cyrus Poonawalla says third dose desirable