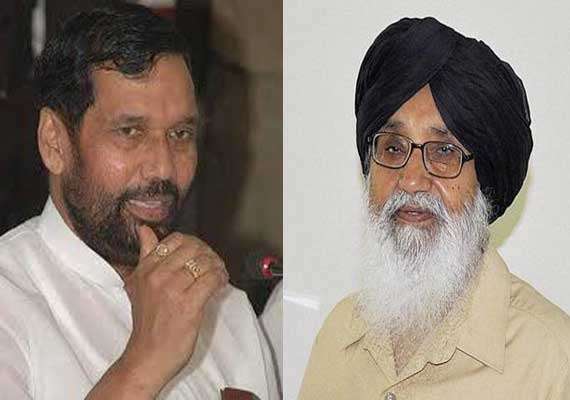 Chandigarh: Punjab government today asked Centre to ensure assured marketing of maize crop by directing central procurement agencies to procure it from the state to encourage crop diversification.
In a letter, Punjab Chief Minister Parkash Singh Badal asked Union Minister of Consumer Affairs, Food and Public Distribution Ram Vilas Paswan to direct any of the central agencies, including FCI, NAFED, etc, to procure maize from the state.
The Chief Minister apprised Paswan that to improve farm income, diversification of agriculture along with value addition of produce is essential for which state Agriculture Department has identified maize, cotton, agro-forestry and pulses as alternative crops to break the rotation of wheat and paddy, making agriculture not only more sustainable but also environment friendly.
He said that under its flagship programme of crop diversification, the state government has decided to increase area under maize to over five lakh hectares in the next 3-5 years, reducing the area under rice cultivation. 
However, Badal said such a target will be difficult to achieve unless Government of India decides to procure maize at a minimum support price from the farmers. 
The Chief Minister informed Paswan that he had taken up the matter with the Ministry of Agriculture, but it was learnt that the current MSP of maize was Rs 1,350 per quintal. 
However, he bemoaned that none of the agencies of the Centre had ever entered Punjab market to procure maize at such a price, as a result of which the farmers of state were left at the mercy of the private traders and were thus exploited. 
Badal also said the Ministry of Agriculture has observed that the Ministry of Food and Civil Supplies should procure maize at MSP as it was one of the important food crops. 
"This initiative can be taken only with your intervention as apprehensions and hesitations at the level of officials will never allow the procurement of maize at MSP declared by the government of India," he added.
The Chief Minister apprised Paswan that owing to low production risk and assured marketing of wheat and rice, about 80 per cent of the arable area in the state came under these two crops adding that since long, this cropping system has continued yielding a high growth in agriculture production and farm incomes.
He said the total production of wheat and paddy rose to 17.5 million tonnes and 16.9 MT, respectively in 2013-14 due to which the state has been contributing about 30-40 per cent food grains to the central pool to ensure the food security of the nation.
However, Badal said the production potential of the available technology of these crops has almost been fully exploited and there is now near stagnation in growth and real farm incomes from these crops.