Follow us on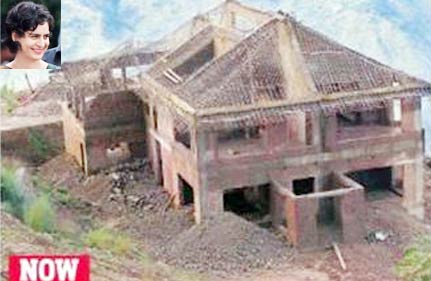 Priyanka Gandhi Vadra has fired her builder and has hired a new architect to get her dream cottage ready in Charabra hills, 13 km uphill from Shimla, reports the tabloid Mail Today.
Poor construction and this year's unrelenting monsoon rains washed away her plans of having a slate roof for the double-storeyed house that has a modern and British-style architecture typical to the region, the report says.  
With wood frames and a sloping roof, the cottage is coming up at a height of more than 8,000 feet amid the verdant forests of pine and cedar in Charabra.
Though the foundation was laid on September 6, 2008, it will take another year to complete it because the faulty roof will have to be replaced with steel, the report says.  
Seepage from the multi-colour slate roof (selected by Priyanka, her husband Robert and mother Sonia Gandhi) poured water on the family's plan to spend their summer holiday in the new house, says the report. Besides, there are other design flaws as well. 
Priyanka, the report says, has fired the builder and has hired a new architect to get her dream cottage up and ready. "The roof has been dismantled and the slate tiles are being replaced. The cottage will now have a wood ceiling with a slanting roof made of corrugated galvanized steel", said Neeraj Saini of Kohelika Kohli Architects, the Jangpura-based firm in Delhi that is overseeing the work now.  
The pillars or columns are also faulty, and need to be redesigned. Even the size of some of the rooms would be redesigned, says the report.  
The site looks messed up too. The apple, cherry and pear plants (about 150), which were planted about a couple of years ago, have been damaged.  
The cottage, spread over three-and-a-half bighas ( 1 bigha = 0.4 hectare) of agricultural plot, is 500 metres from The Retreat – the summer resort of the President and the Oberoi Group's luxury spa Wildflower Hall.
Pryanka, her children and Sonia frequently visit the place to inspect the construction.  "We still have a lot of work to do, inclding interior designing. It will require at least a year. During winter, we have to stop construction for some weeks," said Saini.  
The Vadras purchased the plot for around Rs 47 lakh from US-based Satish Kumar Sood and Satinder Sood in 2007.  
The then Himachal Pradesh government had relaxed norms under Sec 118 of Land Reforms and Tenancy Act because under Himachal Pradesh land laws, only the state's permanent residents can buy land in the state. Other who want to purchase land for non-agricultural purposes have to seek relaxations under the law.  
The Vadras have appointed Kehar Singh Khachi, the person who helped them purchase the plot, as caretaker of the property.