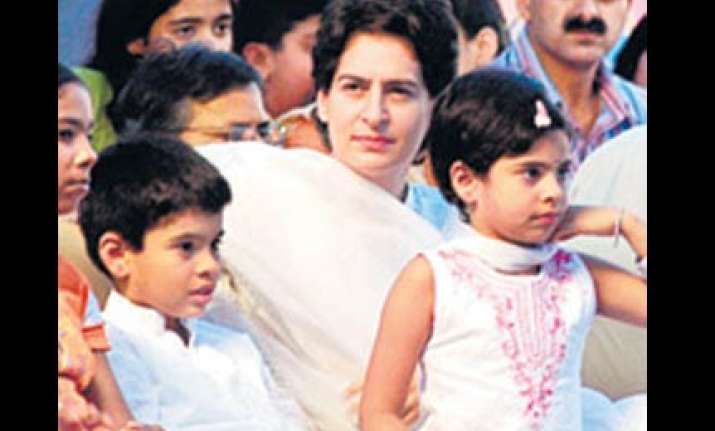 NEW DELHI: While turning into a highly successful event, the CWG is also ushering in a new security culture which is bound to leave many so-called VIPs squirming. On Thursday afternoon, Priyanka Gandhi's two children watched swimming events at the S P Mukherjee Swimming Complex from the ordinary spectators' gallery after buying ticket, reports Times of India.  
Not just that, the kids also stood in a queue to get into the stadium. There was no VIP entry for them. While the usual security cover was indeed there, all attempts were made to ensure that their visit remained as unobtrusive as possible.In fact, as sources revealed, even those seated in close vicinity of the two kids had no idea that they were so near to the Gandhi family children.  
Members of the Organising Committee apparently had no idea that they would be coming and there was nothing at the venue to suggest a visit by Priyanka's kids. More interestingly, when some officials from the OC offered to take them to the VIP lounge where ministers and bureaucrats are seated, the children refused to budge from their general category seats. ``The OC protocol officer met the kids and had a word with them. They spent close to an hour inside the complex,'' said a source.
The two were accompanied by a couple of more kids and some security staff. Neither Priyanka nor her husband Robert Vadra was there.
Sources revealed that Rahul Gandhi too watched boxing events on Friday at the Talkatora Indoor Stadium and he too made it a point to sit in the general spectators category. One has come to expect something like this from the scion of Gandhi family though.
This trend, however, was started by none other Union home minister P Chidambaram himself on October 4 when he visited the S P Mukherjee Swimming Complex on October 4. While Chidambaram himself was seated in the VIP lounge, his daughter-in-law and grand-daughter watched from the general category. When OC officials and others offered to bring them to the lounge, Chidambaram said no to them and merely waved at his family members. Before that, he walked more than 500 metres to the venue as his driver did not have the requisite pass to drive till the entrance.