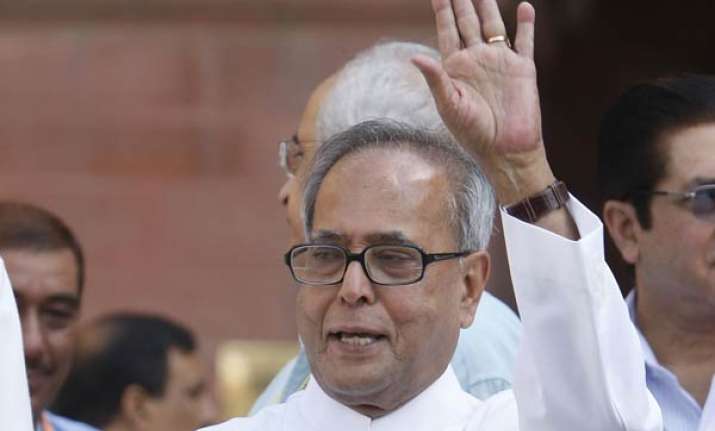 Kolkata, Apr 11: Welcoming BJP leader L K Advani's statement of pledging support to the Lokpal bill, Finance Minister Pranab Mukherjee today said that the UPA government was in favour of placing the Bill in the monsoon session of Parliament.

"The drafting committee will discuss the bill and the government will see that it is placed in the monsoon session of Parliament," Mukherjee told a meet-the-press programme here.

Mukherjee, who is the co-chairman of the joint committee that will draft the Lokpal bill said, "We will complete the work of the committee quickly, so that we can place the bill in the monsoon session." Mukherjee welcomed Advani's statement expressing support for the bill: "I welcome his support.
I have kept him informed. His party has to support the bill in the Lok Sabha and the Rajya Sabha by pressing the button in its favour when it will be put to vote, only after which it will be passed."

He said he had also discussed the issue with the Leader of the Opposition in Lok Sabha, Sushma Swaraj and other parties including the Left.


"There was talk about Lokpal bill since 1972. Advani was a minister in the Union Government from 1977 to 1980 and a home minister from 1998 to 2004 when his party was leading the government. Nobody stopped them from passing the bill.

Nevertheless, better late than never. If they support it today it is good." The minister said members of the joint committee on the Lokpal bill would sit together and discuss it.

Mukherjee  said India would endorse the UN convention on graft which the country signed in 2005. "India will ratify the UN convention on graft. There is a long legal procedure which is needed to be followed," the Finance Minister said.

The UN anti-graft convention has 140 countries in its list.

Taking a jibe at BJP for its tirade against corruption in the country, Mukherjee said it was the nature of that party to raise the issue from "time to time".

When BJP was in power during 1998-2004 it did not pass the Lokpal Bill conceived in 1972. "Nobody stopped them from doing that," he said.

He, however, welcomed the gesture made by veteran BJP leader L K Advani for assuring the party's support to the Lokpal Bill when tabled in the Parliament. The bill would be placed during the coming Monsoon Session of Parliament, Mukherjee said. PTI