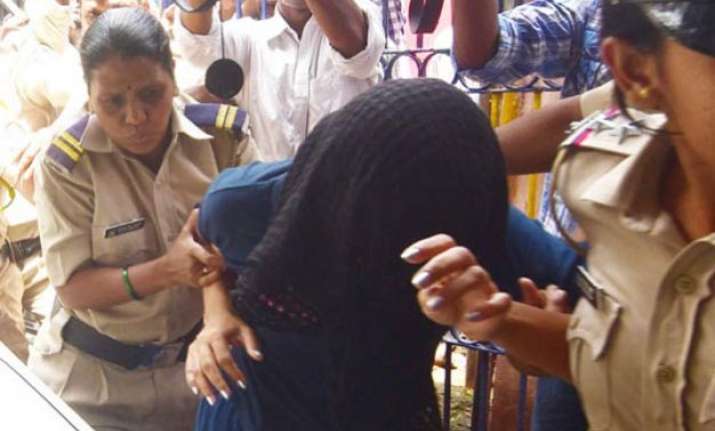 Mumbai: All the three accused in Sheena Bora murder case were today produced before the Bandra magistrate court which extended their police custody till September 5.
The Mumbai Police apprised the court about the status of the investigation and that they were looking for more suspects.
Former media honcho Peter Mukerjea's wife Indrani Mukerjea, her former driver Shyam Rai and her ex-husband Sanjeev Khanna are in the custody of the Khar police for the murder of Indrani's daughter Sheena Bora.
Rai was the first to be arrested on August 21, Indrani was arrested on August 25 after a confession by Rai and Khanna was nabbed from Kolkata on August 26. The court had remanded them into police custody till August 31.
Section 328 for causing hurt by means of poison has also been added in the case filed against the accused.
Meanwhile, the police have also added Section 307 of the IPC for attempt to murder of her son Mekhail Bora.
Indrani's lawyer today complained in the court that she is not being allowed to meet her client alone and was allowed to meet her in the presence of cops only. She argued before the court that it is against the guidelines of Supreme Court.
Public prosecutor informed the court that the car used in the crime has been identified but is yet to be seized. He argued before the court there are many material and forensic evidence yet to be collected which would require the police remand of all three accused.
The police are yet to recover the passport of third accused Sanjeev Khanna. Apart from that, cops are working hard to find out where the petrol and matchbox was purchased on the night of murder.
Three accused used internet to chat and plan the murder which the police is working to recover, the prosecutor informed the court.
On Sunday, the Mumbai Police took Khanna and Rai to the crime spot at Dagode, in the forests near Pen in adjoining Raigad district in an attempt to recreate the entire crime scene.
On the evening of April 24, 2012, Sheena was allegedly killed in a car, her body doused with petrol and then dumped in the desolate jungle area in Raigad.