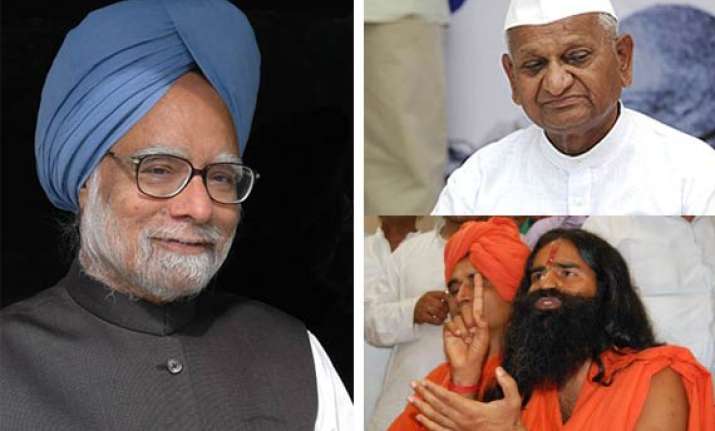 New Delhi, Jun 28:  A section in the Congress is keen that Prime Minister Manmohan Singh should address the nation on the issue of corruption and the Lokpal bill in order to counter the campaign launched by the civil society activists, reports Hindustan Times.
 
"The PM's clean image and sincerity will help in carrying the message to the people that     the government is serious about tackling corruption and taking action against it" said a senior Congress leader.

Though, the Prime Minister is yet to make up his mind, the report says, he may first try to reach out to opinion makers.
 
The Prime Minister  is expected to meet editors and senior journalists this week at part of his exercise to explain his government's stand on various issues.
 
The suggestion that Singh address the nation was made by a senior leader at  a recent Congress Working Committee meeting.

The prime minister, during the meeting, accepted full responsibility for all the decisions taken following criticism of the government's handling of the anti-corruption campaigns by Anna Hazare and Baba Ramdev and the formation of a joint drafting panel for Lokpal bill.
 
At the same meeting, there was also a demand that the party use Rahul Gandhi's  "charisma" to counter the "four or five self-proclaimed civil society representatives" who were allegedly masking for the RSS-BJP, a Congress leader said.

With the Congress-UPA's image taking a beating, the party is now determined to take these activists including Hazare, who is planning a fast from August 16 head-on.

The Lokpal bill will be in focus at the all-party meeting on July 3 and during the monsoon session of Parliament starting from August 1, says the report.

The government's draft Lokpal bill, which will be finalized after the all-party meeting and presented to the Cabinet before being brought to Parliament, opposes the inclusion of the prime minister, higher judiciary and conduct of MPs inside Parliament and is contrary to the stand of Team Anna.