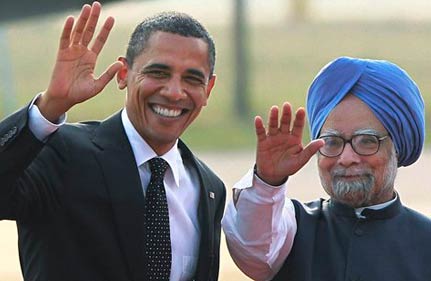 New Delhi, Nov 7 (PTI) On the eve of their formal talks, Prime Minister Manmohan Singh and President Barack Obama had a meeting here tonight during which the two leaders are understood to have taken stock of bilateral ties and ways to push these to higher levels of strategic partnership.
Singh and Obama had a one-on-one meeting for about 25 minutes before the private dinner hosted by the Prime Minister for the visiting leader and his wife Michelle at his 7, Race Course Road residence.
The two leaders are believed to have taken an overview of the bilateral relations, which have grown substantially over the last few years.
Singh and Obama, who will hold wide-ranging talks tomorrow, are understood to have discussed ways in which the two countries could raise their cooperation to higher levels, particularly in economic, security, agriculture and science and technology.