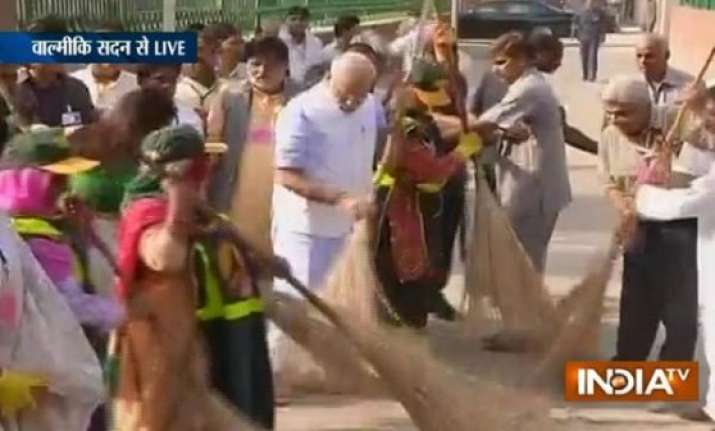 New Delhi: In a bid to contribute his effort to make 'Swachh Bharat Abhiyan' a big success, Prime Minister Narendra Modi on Thursday morning used a broom and shovel to clean the ground of the Valmiki Sadan, a Dalit colony at Mandir Marg in national capital.
The ambitious 'Swachh Bharat Abhiyan' is aimed at creating a 'Clean India' in the next five years.
He will also administer the 'Cleanliness Pledge' to the countrymen of contributing 100 hours every year to keep cities and towns clean.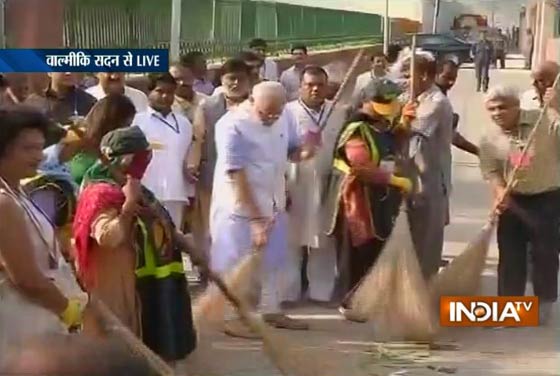 The launch of the mission comes in the wake of a perception about Indian cities not being very clean. A number of people in rural areas still do not have access to toilets. Some schools in the rural areas also do not have toilets.
According to the 2011 Census, only 32.70 per cent of rural households had access to toilets. According to a UN report released this year, India continues to have the largest number of people in the world defecating in the open.
Modi has been talking of 'Clean India' in his major speeches, and most people feel that personal push being given by him to sanitation would have an impact.
Modi has said a 'clean India' will be the best tribute to Mahatma Gandhi on his 150th birth anniversary in 2019. The Father of the Nation had a penchant for cleanliness in his personal habits and strongly promoted it in society.