Follow us on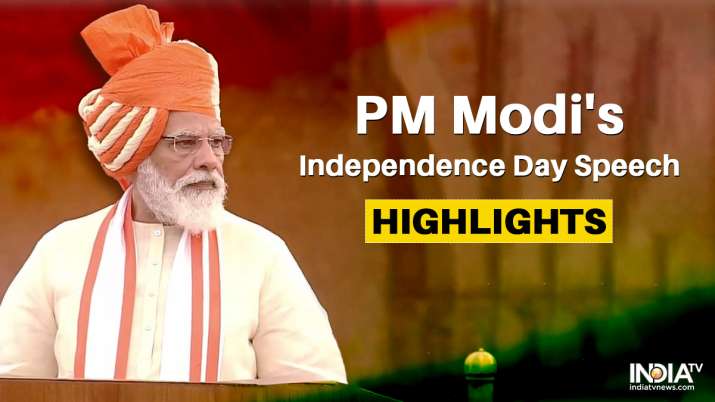 Prime Minister Narendra Modi on Saturday unfurled the Tricolour at the Red Fort and addressed the nation amid the COVID-19 outbreak. Modi paid tribute at the Raj Ghat on the occasion of 74th Independence Day. Continuing the tradition of sporting bright-colored turbans for his Independence Day speeches, the Prime Minister chose an off-white saafa with a broad streak of orange for the second I-Day address of his second term.
On his arrival at the Lahori Gate of Red Fort, Modi was received by the Defence Minister Rajnath Singh and Defence Secretary Ajay Kumar. The Defence Secretary introduced General Officer Commanding (GoC), Delhi Area, Lieutenant General Vijay Kumar Mishra to the Prime Minister.
The GoC then conducted the Saluting Base in the presence of the Prime Minister, where a combined Inter-Services and Police Guards presented the general salute to him. Thereafter, Modi inspected the Guard of Honour.
He then proceeded to the ramparts of the Red Fort where he was greeted by Rajnath Singh, Chief of Defence Staff General Bipin Rawat, Chief of Army Staff General M.M. Naravane, Chief of Naval Staff Admiral Karambir Singh and Chief of Air Staff Air Chief Marshal R.K.S. Bhadauria.
Prime Minister Narendra Modi's Independence Day Speech | HIGHLIGHTS
Prime Minister Narendra Modi begins Independence Day address by paying tributes to freedom fighters and security forces
We are going through a unique situation because of coronavirus pandemic and hail 'corona warriors'
We will achieve victory over coronavirus with resolve of people of country
All attempts were made to root out our cultures and traditions in past
PM Narendra Modi reassures full support to citizens affected by natural calamities and disasters
India became a challenge to forces of expansionism with its freedom struggle
It is necessary for us to prepare ourselves to make India self-reliant
In midst of coronavirus pandemic, Indians resolve to become 'self-reliant'; this is not a word but mantra for all people
India's share in world economy should increase for which we have to be self-reliant
While we focus on economic growth and development, humanity must retain a central role in this process
For how long India will export raw materials and import finished products; country has to become self-reliant
We have to go beyond reducing our imports
Mindset today should be 'vocal for local'
I am confident that measures like opening up space sector will generate many new employment opportunities for our youth
FDI inflows have risen by 18 per cent in past year
Self-sufficient India means not only reducing imports, but also increasing our skills, our creativity
Today, many big companies of world are turning to India: PM Modi on Indian economy
We have to move forward with mantra of 'Make in India' as well as 'Make for World'
About 7,000 projects of different sectors have been identified to bring new revolution in infrastructure
We have to remove silos and entire country has to move towards multi-modal connectivity infrastructure
About Rs 90,000 crore directly transferred to bank accounts of poor; over 80 crore people provided free food grains
Seven crore poor families were given free gas cylinders: PM Modi
Self-reliant India has an important priority -- self-sufficient agriculture sector and self-reliant farmers
An agriculture infrastructure fund of Rs one lakh crore has been created to give modern infrastructure to farmers
Over one lakh households are being provided drinking water under Jal Jeevan mission
Middle-class has potential and wants new opportunities: PM Modi
We have decided to connect all 600,000 villages with optical fibers within 1,000 days
New education policy aims to connect our children with their roots while making them global citizens
PM Modi announces the launch of national digital health mission from today; all Indians to get health IDs
National Digital Health Mission will bring a new revolution in India's health sector
Three corona vaccines are in various stages of trial in India; large-scale production will begin once we get the nod from scientists
Our roadmap to bring corona vaccine to all Indians in the shortest possible time is ready
India is committed to holding assembly elections in Jammu and Kashmir once delimitation exercise is complete: PM Modi
It was a year of a new development journey for Jammu and Kashmir
Just as Sikkim has made its mark as an organic state, efforts are being made to make Ladakh a carbon-neutral region
A special campaign with a holistic approach is also being worked out to reduce pollution in 100 selected cities of the country
Those who challenge India's sovereignty, be it LOC or LAC, have been given a befitting reply in their own language
What India can do, the world has seen it in Ladakh
Respect for India's sovereignty is supreme for us
Today, neighbours are not only those with whom we share our geographical boundaries but also those with whom our hearts meet
In the next 1,000 days, Lakshadweep will also be connected with high-speed internet
We are expanding NCC in border areas; special training will be provided to about one lakh new NCC cadets
Coronavirus may be a big challenge but not so big as to stop India's march towards self-reliance