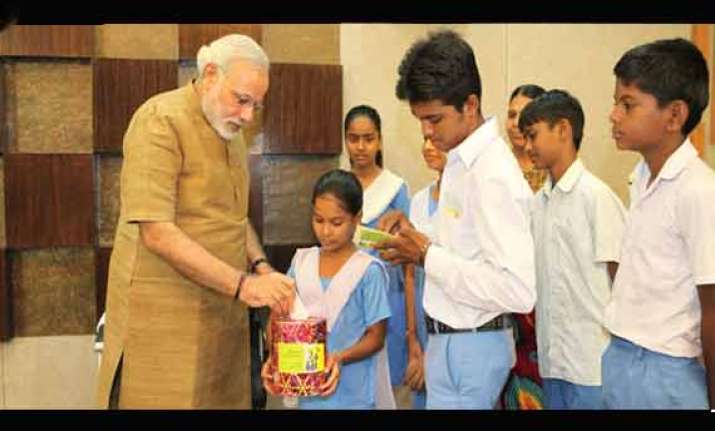 New Delhi: With Prime Minister Narendra Modi taking personal interest in bonding with children and teachers for skill development, the government is planning to arrange a nationwide live video conference on the occasion of Teachers' Day on September 5 allowing people to interact with the head of government directly.
According to a Hindustan Times report, the BJP-led NDA government is mulling a grander-than-usual Teachers' Day celebration, which also marks the birth anniversary of former President and a great teacher Dr Sarvepalli Radhakrishnan.
Besides taking part in a customarily affair, usually limited to the President of India, where meritorious teachers are awarded on this occasion, the Prime Minister may engage himself in a free-wheeling chat with children and teachers across the nation.
Sources said that Modi may also host the award-winning teachers a day before or after Pranab Mukherjee gives away the accolades at Vigyan Bhawan in New Delhi.
On several occasions, Modi had always looked for an opportunity to interact with children and others. On Independence Day, first he chucked a bullet-proof enclosure at the Red Fort and then he got down from his car and broke away from the SPG security cover to meet a group of school children.
With a hope of highlighting the importance of skill development in today's era, seven Ministries, including HRD, are working together to schedule the event where Modi will get first-hand stock of school-education sector.
As per the data published by the 2011 census India has managed to achieve an effective literacy rate of 74.04 per cent in 2011. In the 2001 census the country's literacy rate stood at 64.8 percent.