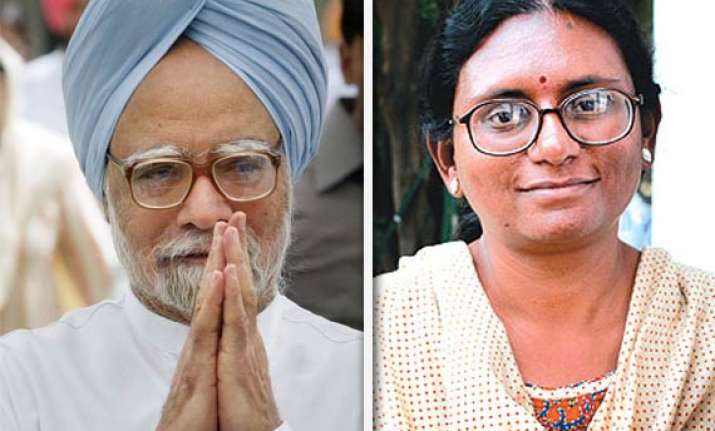 New Delhi, Dec 7: A Parliamentary Committee today left it to the "wisdom" of Parliament the issue of inclusion of Prime Minister in Lokpal's ambit but a Rahul Gandhi aide and two other Congress members gave dissenting notes favouring inclusion of Group C employees.

However, BJP, BJD and Left members gave dissenting notes demanding inclusion of Prime Minister with some safeguards.  The 30-member panel, which had its last meeting today and adopted the report, has recommended conferring constitutional status on the Lokpal and setting up of Lokpal and Lokayuktas in states under one legislation.

The judiciary and conduct of MPs in Parliament have been kept out of the Lokpal's ambit in the 199-page report. 

Meenakshi Natarajan, Congress MP considered close to Rahul Gandhi, and two of her party colleagues Deepa Dasmunshi and P T Thomas gave their dissent notes during today's meeting demanding inclusion of Group C employees under Lokpal's purview and making CVC accountable to the ombudsman. 

The final report keeps out Group C employees from the ambit of Lokpal.

The report, without taking a position, also recommended three options on the issue of Prime Minister: his inclusion without exception and qualifications, inclusion with no exclusionary caveats but after demitting office and inclusion of the PM with exclusions on issues like national security and foreign affairs.

In all, a total of 16 notes of dissent are believed to have been submitted to the Committee by members of BJP, BJD, SP, Congress, LJP, RJD and Left parties.  Chairman of Parliamentary Standing Committee on Personnel and Law and Justice Abhishek Manu Singhvi said after the meeting that the report is likely to be tabled in Parliament on December 9.

Sources in the government indicated that the Lokpal Bill could be passed by Parliament during the current session, a promise given by government to Anna Hazare before he ended his fast in August.

The sources said if the report is tabled in Parliament on December 9, a fresh bill with government amendments could come before Lok Sabha for consideration on December 19 and reach the Rajya Sabha on December 21.

They also maintained that Congress members in the Committee had only given their point-of-view and not dissent notes.

Reacting to the Standing Committee proposals, Hazare appeared to relent on the issue of inclusion of Prime Minister saying he would accept the Parliament's decision on the issue. 

However, he and his team members Arvind Kejriwal and Prashant Bhushan expressed dissatisfaction over various issues like exclusion of lower bureaucracy and Citizen's Charter. 

In their notes of dissent, members from SP, RJD and LJP have demanded reservation in Lokpal "at all levels" for SCs, STs, OBCs, women and minorities.

"The reservation in Search Committee is not enough. Its role will end once a Lokpal is selected," SP member Shailendra Kumar told reporters after the meeting.

RJD supremo Lalu Prasad said that in his dissent note he has also opposed granting Constitutional status to Lokpal. 

Seven BJP members have submitted their notes of dissent demanding inclusion of the Prime Minister with some safeguards, inclusion of lower bureaucracy and making citizen's charter and grievance redressal mechanism a part of the Lokpal institution.

While CPI(M) said it wanted inclusion of Prime Minister and lower bureaucracy under the ambit of Lokpal, RSP said the PM should be covered under the ombudsman without any safeguards.

"The Committee considered 25 issues with convergence on a large number of subjects and some divergence on different issues by different members," Singhvi said.

He said the notes of dissent will be reflected in the report when it is presented to Parliament.