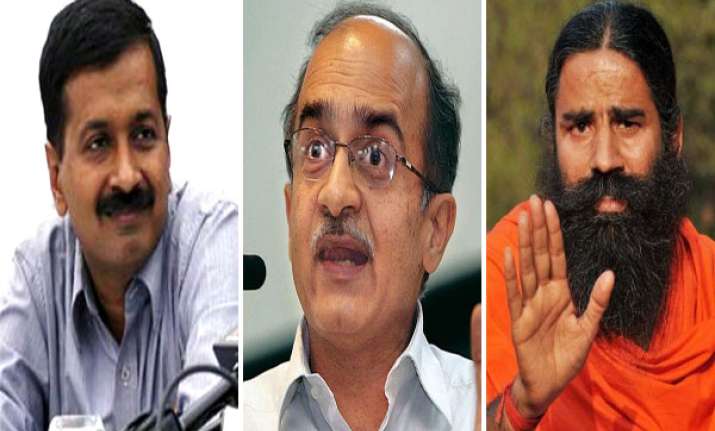 New Delhi,Nov 8: Three pleas for registration of FIRs against activist Arvind Kejriwal, yoga guru Baba Ramdev and noted lawyer Prashant Bhushan for their alleged remarks against parliamentarians and supporting plebiscite in Jammu and Kashmir respectively were dismissed by a court here on Thursday.
Metropolitan magistrate Purshottam Pathak dismissed all the three complaints seeking directions to the Delhi police to book Kejriwal, Ramdev and Bhushan on charges of sedition.
"Complaints against Arvind Kejriwal and Ramdev are dismissed. Complaint against Prashant Bhushan is also dismissed," the court said.
The complaints had been filed by Vibhor Anand, a law student, saying Kejriwal had triggered a political storm by stating in a rally at Ghaziabad early this year that Parliament was filled with "murderers, rapists and dacoits."
Anand had also sought registration of FIR against Bhushan on charges of sedition for his alleged remarks supporting plebiscite in Jammu and Kashmir and for withdrawal of the Army from the valley.
He had also made a similar complaint against Ramdev saying "he had made derogatory allegations against Parliamentarians who are running the system of the country and had attacked MPs calling them dacoits and murderers, which amounts to sedition".
Addressing media, while launching his month-long yatra in Durg, Chhattisgarh, Ramdev had said "there are good people among the parliamentarians and he respected them. But there are (also) dacoits, murderers, illiterates among them. We have to save Parliament. We have to remove corrupt people."
Anand said he will challenge the trial court's order.