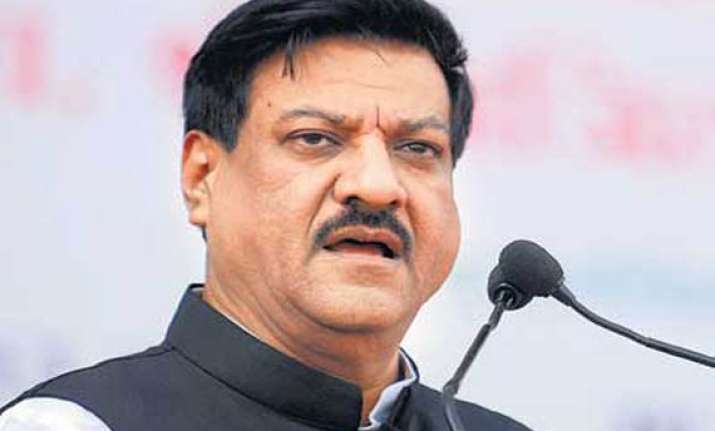 Mumbai, Nov 18: Hitting out at Team Anna for targeting Congress on the issue of corruption, Maharashtra chief minister Prithviraj Chavan on Thursday  said that people have seen through their hidden agenda.

Addressing a workers training camp of the Mumbai Congress ahead of the civic polls slated early next year, Chavan said the RTI act was being used only against the Congress and now its time the corrupt deeds of the Sena-BJP are exposed.

"Team Anna has systematically targeted the Congress and people are now realising their hidden agenda. Congress has been taking several measures to curb corruption and has planned legislations like the whistleblower act and to prevent corruption in the private sector. The government is open to suggestions to improve the system," he said.

Meanwhile Chavan wondered why the party has not been able to wrest the Mumbai civic body from the Shiv Sena-BJP.

"It is the state and central governments which have been working for development of the city while the Sena-BJP run civic body had failed on all counts," he said.

He said Congress aims to transform Mumbai into megacity which would provide more employment opportunities, increase income limits and enhance standard of living of all its citizens.

Chavan reiterated his support for a coastal ring road in the city and said he would pursue the matter with the environment ministry.

He admitted difficulties in meeting deadlines for metro and mono rail and said the first phase of both projects would be completed soon.

Acknowledging opposition to the elevated metro, he said he would try for underground metro in the next phases even though it would amount to cost escalation.

Chavan said he supported developing water transport in the city and his government would work in that direction.

Responding to criticism from party leaders that the government has failed to implement promises made in the manifesto like regularising slums till 2000 and rehabilitation of slum dwellers near the airport within three to five km radius, Chavan said an appropriate decision would be taken before the code of conduct is enforced.

Former union minister and party MP from Mumbai North West Gurudas Kamat also targeted anti-graft crusader Anna Hazare for never having spoken against corruption indulged by the BJP in Karnataka and the Sena-BJP in Mumbai Municipal Corporation.

"Hazare wants a strong Lokpal bill to stop corruption. He does not feel like questioning his aides Arvind Kejriwal and Kiran Bedi for violating laws. Congress workers must point this out when targeted over corruption. Strong anti-corruption laws exist and that is the reason why a cabinet minister is in jail for eight months," Kamat said.

He said it was the Congress party's failure to not get people out to vote in the civic polls that has resulted in Sena-BJP ruling the corporation for 17 years.

Party MP Priya Dutt and legislators from Mumbai North Central parliamentary constituency complained that election promises should be fulfilled and cited non-implementation of the assurance on regularising slums upto the year 2000 and rehabilitation of slum dwellers near the airport within three to five km radius.

"We have been elected on that promise and it should be fulfilled," they said.Maharashtra Pradesh Congress Committee president Manikrao Thakre said the Shiv Sena-BJP's politics was now centred around Mumbai and surrounding areas since they have lost hopes of coming back to power in the state.

"Don't let internal differences affect party's prospects in elections," he told the faction-ridden city unit of the party.Industries Minister Narayan Rane wondered why the Congress workers kept mum when opposition targeted the PM and Sonia Gandhi. "why dont we attack and counter attack," he asked.

Rane clarified that his son Nitesh who runs the Swabhiman NGO is not contesting the civic polls. "the NGO will work for the Congress candidates,"he said adding that Nitesh's comments about entering the fray have been misconstrued.