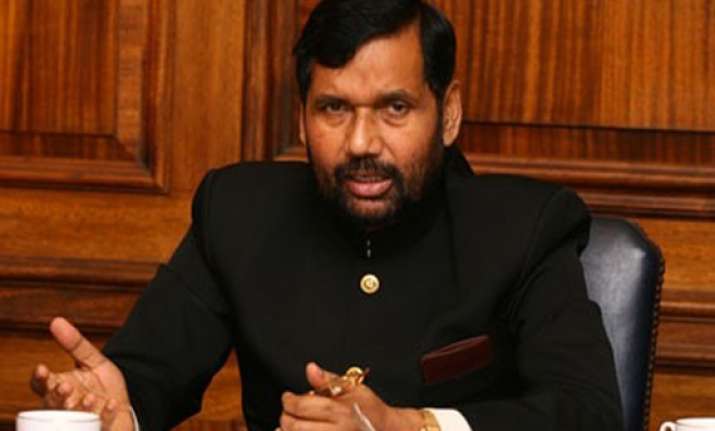 New Delhi, Feb 26: Backing the PCI chairman over his remarks on media freedom in Bihar, LJP chief Ram Bilas Paswan today made a scathing attack on Chief Minister Nitish Kumar saying those who claim to have fought press censorship during Emergency are now undermining freedom of the fourth estate. 

"We welcome what PCI Chairman Justice Markandey Katju has said. He has brought the reality of Bihar government before the people," Paswan said alleging that mediamen are not free to express their views openly in Nitish Kumar's regime. 

He said that a delegation of Lok Janshakti Party will also meet President Pratibha Patil shortly over the issue of "violation of media freedom" in Bihar. 
"The Bihar government is obstructing the work of mediamen who write against it and forces their transfers. Ironically, it is being done by the same people who claim to have fought against media censorship during Emergency," the LJP chief said.

He also criticised Bihar's deputy Chief Minister Sushil Kumar Modi for his comments against Katju. 
"The deputy CM ridiculed the Chairman of an important body like the Press Council of India. Such a thing has never happened in Bihar politics and it is a matter of shame," he said.

Katju had on Friday targeted the Bihar government, alleging the media in the state was harassed if it wrote against it."... there was freedom of the press during Lalu's rule...  but press doesn't enjoy freedom at present," he had said at a function in Patna University.
"The information I have gathered about the media in Bihar is not good...whatever is happening here is not good," he added.

He said that Katju's observation on the problems being faced by people in Bihar is an eye-opener. 
The LJP chief also demanded action against the principal of a Patna college who raised objections while Katju was making his remarks against the Bihar government during an interaction session at the Senate Hall in Patna University.  Paswan claimed that the principal's wife was an MLA from JDU. "Such political persons should not be made principals," he said.

Katju had also said that information he had gathered about the media in Bihar is "not good" and reminded the Nitish Kumar government that its alleged action against the press was a violation of the Constitution.

A three-member PCI team would be sent to Bihar soon for an investigation, he had said."I have been told that people don't muster courage to write against the Bihar government or its officials," Katju said at a function, adding that any attack by the state government on the freedom of press was a violation of Section 19 of Constitution.

"The Constitution is being violated by such people and they don't want the Constitution to function. You are a government, but you are not above the Constitution ... you are below it," he had added.

Bihar Chief Minister Nitish Kumar had declined to comment on the PCI Chairman's statement. "I am not required to offer any comment," Kumar told reporters on Saturday.