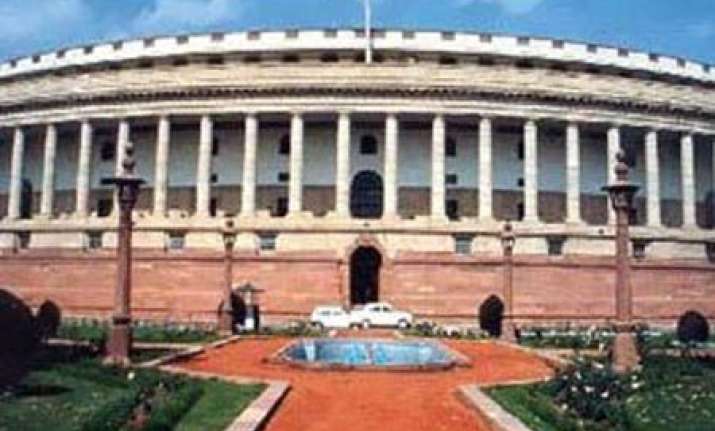 New Delhi, Nov 19 : The stalemate over the opposition's demand for joint parliamentary committee to probe the 2G spectrum allocation scam continued for the sixth day today and both houses of Parliament were adjourned till Monday.  
Leader of the House Pranab Mukherjee has ruled out a JPC probe. Mukherjee is expected to meet the opposition leaders again to request them to end the stalemate failing which the UPA government may go in for curtailing the winter session.  
As soon as the Lok Sabha met for the day, BJP and SP members rushed to well shouting "we want JPC". Some Congress members from Karnataka came to the aisle of the House with posters dubbing Karnataka Chief Minister B S Yeddyurappa as "corrupt". "Throw out corrupt Chief Minister B S Yeddyurappa," read one of the posters.
JD-S chief and former prime minister H D Deve Gowda was also seen holding one of the placards.
Earlier this week, government auditor CAG had indicted former Telecom Minister A Raja of committing irregularities in allocation of 2G spectrum causing a presumed loss of Rs 1.76 lakh crore to the exchequer.As the din continued, Speaker Meira Kumar adjourned the House till noon hardly a few minutes after it met for the day.The Rajya Sabha also witnessed similar scenes.
As soon as the House assembled, Chairman Hamid Ansari took up the Question Hour. But, members from BJP and AIADMK rushed to the well demanding setting up of a Joint Parliamentary Committee to go into the 2G spectrum issue.PTI