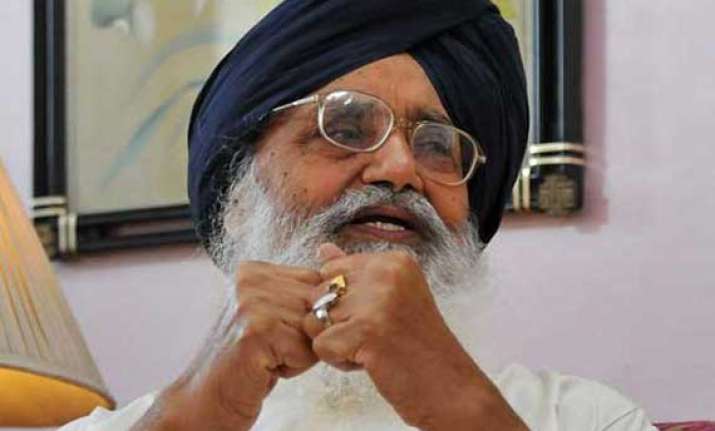 Chandigarh: Punjab Chief Minister Parkash Singh Badal today urged Union Minister Nitin Gadkari to provide additional funds to the state in the ensuing Budget under Rural Water Supply and Sanitation scheme.
In a letter written to Mr Gadkari, the Minister for Drinking Water Supply and Sanitation, the Chief Minister said necessary action was required to remove miseries of rural habitations in Punjab, said an official release.
He also urged Mr Gadkari to ensure that the additional fund is issued immediately after the Budget is passed by the Parliament.
In the letter, Mr Badal informed the Union Minister that a large number of water samples of rural habitations of Punjab have failed the purity test and so it was needed to provide water purification systems to these areas on priority.
He said the state Department of Water Supply and Sanitation has already submitted a proposal of Rs. 101.33 crore to the Centre for installing Reverse Osmosis (RO) water purification system in 730 habitations across the state.
The Chief Minister said the department also needs additional funds to install ROs in the remaining 2,094 habitations, where water has been found contaminated with uranium and other heavy metals.
Mr Badal also urged Mr Gadkari to provide funds of nearly Rs. 300 crore for these habitations also.
Referring to his recent meeting with the Union Minister in New Delhi, Mr Badal lauded Mr Gadkari advising the officials of the Ministry of Water Supply and Sanitation to consider this request of the state government on priority.
"It was a pleasure to meet you, more so because of your positive attitude and inclination to resolve the pending issues of Punjab, especially that of quality of drinking water being supplied to rural habitations, at the earliest," he added.