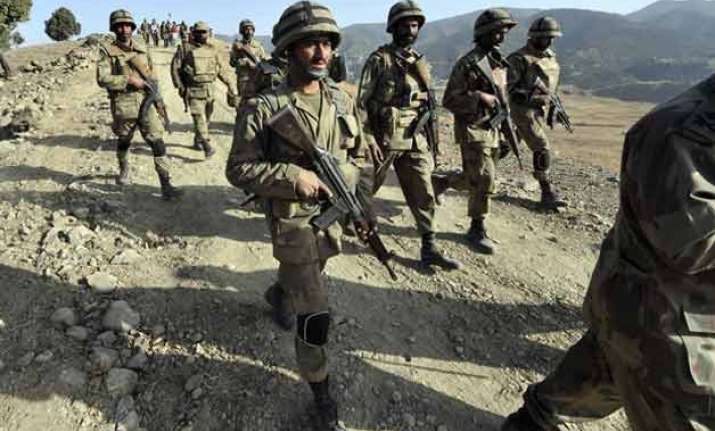 New Delhi: Pakistan is believed to have deployed a unit of its Special Services Group (SSG) to help terror outfits Lashkar-e-Tayyaba and Jaish-e-Mohammed infiltrate into India during American President Barack Obama's visit to New Delhi. The Special Services Group is a highly-trained special operations unit of the Pakistan Army.
Intelligence inputs indicated that the module was specifically tasked with hitting a 'soft target', similar to the Peshawar Army school attack on December 16 last year.
It also suggested that terrorists could possibly target the Jammu and Kathua region.
Keeping this in view, adequate security arrangements have been made in the Jammu region and Valley to foil any attempt by subversive elements.
With these fresh inputs, additional security personnel were deployed late Thursday evening along the Line of Control and the International Border by the Army and BSF, respectively.
Senior security officials said that batch of 100-120 highly-trained SSG commandos were deployed close to the India-Pakistan border to assist terrorists of Lashkar and Jaish.
The Intelligence Bureau (IB), in its report shared with the Ministry of Home Affairs (MHA), has mentioned that the leader of the group had been identified as Badabhai Masroor and warned that the organisation would try to enter through Shakargarh, Zafarwal and Darman sectors.
The operation is being helped by ISI Col. Mansoor Khan, the IB report warned.
On Friday, the Intelligence Bureau issued a fresh alert for Uttar Pradesh, Maharashtra, Rajasthan, Bihar and Orissa. It stated that terror outfits could target religious places and shopping malls.
A major infiltration bid by Pakistan-based terrorists to strike ahead of Obama's visit was foiled by the Border Security Force (BSF) along the IB in Jammu and Kashmir. Officials said BSF troops on Thursday night observed movement of a group of militants trying to infiltrate into the Indian territory in the Samba sector.
Barack Obama will be arriving here tomorrow at 10 am on a three-day state visit.
During his stay in India, the leader, accompanied by his wife Michelle Obama, would witness the Republic Day parade and would visit the Taj Mahal in Agra.