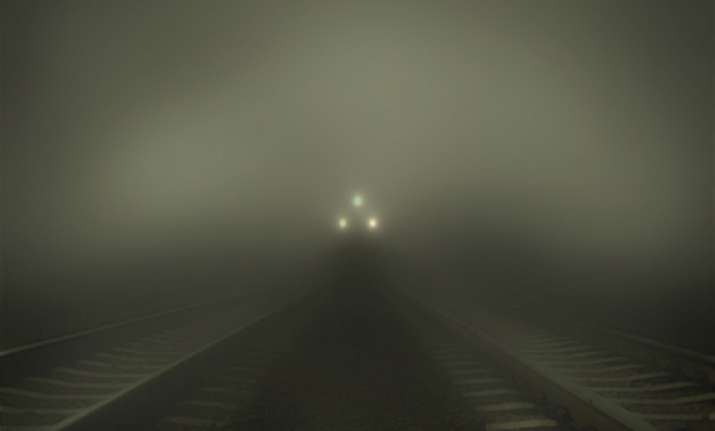 New Delhi, Jan 10: Northern Railway today decided to extend cancellation of trains by another 10 days in view of foggy weather conditions persisting in parts of north India.

The decision came as poor visibility over several north Indian states continued to hamper smooth train movement.

It would mean that services of about 27 trains cancelled from December 22 till January 10 will remain suspended for another 10 days.

As many as 15 trains had to be rescheduled today from New Delhi as close to 50 incoming trains arrived here several hours behind schedule due to thick blanket of fog at several places in the region.

The late incoming trains included about six Rajdhani Express trains from places like Howrah, Sealdah, Dibrugarh, Patna, Ranchi and Bilaspur.

The departure timings of all these trains were revised along with over eight other trains including New Delhi-Howrah and Nizamuddin-Chennai Duronto expresses, New Delhi-Kanpur Shatabdi express and Anand Vihar-Bhagalpur Vikramshila express.

NORTHERN  RAILWAY

 
 
 
 
NEW DELHI
 
 
 
 
 
 
 
 
 
 
Dated: 10.01.2012                            Time 20.00 Hrs.
 
 
RESCHEDULING OF TRAINS DUE TO FOG
 
 
TRAIN NO.
TRAIN NAME
FROM
TO
SCH. TIME
RE.SCH. DEP(HRS.)
12820
ORRISA S.K. EXP.
NEW DELHI
BHUBANESHWAR
 
22.40
12274
DURONTO EXP.
NEW DELHI
HOWRAH
13.00
18.00
12368
VIKRAMSHILA EXP.
ANAND VIHAR
BHAGALPUR
 
18.50
12226
KAFIYAT EXP.
DELHI JN.
AZAMGARH
19.20
21.40
12270
DURONTO EXP.
H.NIZAMUDDIN
CHENNAI
15.50
17.10
12190
MAHAKOSHAL EXP.
H.NIZAMUDDIN
JABALPUR
16.10
18.10
12191
N.DELHI-JABALPUR EXP.
NEW DELHI
JABALPUR
14.05
16.10
12398
MAHABODHI EXP.
NEW DELHI
GAYA
14.10
15.10
12302
RAJDHANI EXP.
NEW DELHI
HOWRAH
17.00
21.00
12314
RAJDHANI EXP.
NEW DELHI
SEALDAH
16.30
20.30
12034
SHATABDI EXP.
NEW DELHI
KANPUR CTL.
 
17.00
12459
INTERCITY EXP.
NEW DELHI
AZAMGARH
13.35
15.15
12310
RAJDHANI EXP.
NEW DELHI
RAJENDER NGR.
 
18.10
12394
SAMPURAN KRANTI EXP.
NEW DELHI
RAJENDER NGR.
 
22.45
22824
RAJDHANI EXP.
NEW DELHI
BHUBANESHWAR
 
20.20
12428
REWA EXP.
NEW DELHI
REWA
23.55
00.50 ON 11.1.12
Passengers may check latest status of their train from Railway Enquiry No. 139, Railways website or New Delhi Fog Helpline No. 011-23747110 begin_of_the_skype_highlighting              011-23747110      end_of_the_skype_highlighting
LATE RUNNING OF TRAINS MORE THAN ONE HOURS DUE TO FOG IN DELHI AREA
TRAIN NO.
TRAIN NAME
FROM
TO
ARRIVAL
LATE BY  (HRS.)
14083
MAHANANDA EXP.
ALIPURDWAR
DELHI JN.
18.10
12.00
12397
MAHABODHI EXP.
GAYA
NEW DELHI
5.00
8.15
12427
REWA EXP.
REWA
NEW DELHI
6.45
9.30
12303
PURVA EXP.
HOWRAH
NEW DELHI
7.20
6.00
12309
RAJDHANI EXP.
RAJENDER NAGAR
NEW DELHI
7.35
5.45
12225
KAFIIYAT EXP.
AZAMGARH
DELHI JN.
7.00
7.00
12559
SHIV GANGA EXP.
VARANASI
NEW DELHI
7.40
6.15
12367
VIKRAMSHILA EXP.
BHAGALPUR
ANAND VIHAR
 
6.45
12387
JANSADHARAN EXP.
RAJENDER NAGAR
ANAND VIHAR
 
16.00
12393
SAMPURAN KRANTI EXP.
RAJENDER NAGAR
NEW DELHI
8.35
14.15
12313
RAJDHANI EXP.
SEALDAH
NEW DELHI
10.15
4.00
13483
FARAKKA EXP.
ALIPURDWAR
DELHI JN.
4.30
10.30
12189
MAHAKOSHAL EXP.
JABALPUR
H.NIZAMUDDIN
 
4.30
12401
MAGADH EXP.
ISLAMPUR
NEW DELHI
11.35
11.30
12561
S.SENAI EXP.
DARBHANGA
NEW DELHI
12.30
10.00
12273
DURONTO EXP.
HOWRAH
NEW DELHI
6.05
6.45
12301
RAJDHANI EXP.
HOWRAH
NEW DELHI
9.55
4.30
12423
RAJDHANI EXP.
DIBRUGARH
NEW DELHI
10.10
3.45
12877
GARIB RATH EXP.
RANCHI
NEW DELHI
10.50
4.30
12349
BHAGALPUR-N.DELHI EXP.
BHAGALPUR
NEW DELHI
13.00
9.00
19602
NEWJALPAIGURI-AJMER EXP.
NEWJALPAIGURI
DELHI JN.
12.10
3.00
14205
FAIZABAD-DELHI EXP.
FAIZABAD
DELHI JN.
9.35
3.00
12649
KARNATKA S.K. EXP.
YASWANTPUR
H.NIZAMUDDIN
 
3.00
12627
KARNATKA EXP.
BANGALORE
NEW DELHI
10.35
4.15
12269
DURONTO EXP.
CHENNAI
H.NIZAMUDDIN
 
3.00
12192
JABALPUR-N.DELHI EXP.
JABALPUR
NEW DELHI
11.35
3.30
18477
UTKAR EX[.
PURI
H.NIZAMUDDIN
 
2.15
12419
GOMTI EXP.
LUCKNOW
NEW DELHI
14.00
2.15
12033
SHATABDK EXP.
KANPUR CTL.
NEW DELHI
11.10
2.45
14511
NAUCHANDI EXP
ALLAHABAD
SAHARANPUR
 
3.00
22823
RAJDHANI EXP.
BHUBANESHWAR
NEW DELHI
10.35
3.30
12569
GARIB RATH EXP.
JAYANAGAR
ANAND VIHAR
 
5.30
12441
RAJDHANI EXP.
BILASPUR
NEW DELHI
10.45
2.30
12715
SACHKHAND EXP.
NANDED
NEW DELHI
12.10
2.45
12617
MANGLA EXP.
ERNAKULAM
H.NIZAMUDDIN
 
2.15
12625
KERLA EXP.
TRIVANDRUM
NEW DELHI
13.40
2.15
19270
MUZAFARPUR-PORBANDER X
MUZAFFARPUR
DELHI JN.
12.40
2.15
12815
PURI EXP.
PURI
NEW DELHI
17.00
7.00
12505
N.E. EXP.
GUWAHATI
ANAND VIHAR
 
5.45
12311
KALKA MAIL
HOWRAH
KALKA
4.30
3.00
12825
JHARKHAND S.KRANTI
RANCHI
NEW DELHI
20.59
3.45
12487
SEEMANCHAL EXP.
JOGBANI
ANAND VIHAR
 
3.30
18101
MURI EXP
TATA NAGAR
JAMMU TAWI
13.40
2.30
12003
SHATABDI EXP.
LUCKNOW
NEW DELHI
22.05
1.30
12556
GORAKHDHAM EXP.
HISSAR
GORAKHPUR
10.00
2.09
12903
GOLDEN TEMPLE MAIL
MUMBAI CENTRAL
AMRITSAR
5.35
1.45
18237
CHATTISGARH EXP.
BILASPUR
AMRITSAR
8.10
1.15
11077
JEHLUM EXP.
PUNE
JAMMU TAWI
9.20
1.00
CANCELLATION OF TRAINS DUE TO FOG
 
 
 
TRAIN NO.
TRAIN NAME
FROM
TO
 
 
54307
MORADABAD - DELHI PASS
MORADABAD
DELHI
 
 
12873
JHARKHAND S.J. EXP.
HATIA
ANAND Vihar
 
31.01.12
12874
JHARKHAND S.J. EXP.
ANAND VIHAR
HATIA
 
01.02.12
13'
JANATA EXP
HOWRAH
DELHI JN.
 
31.01.12
13040
JANATA EXP
DELHI JN.
HOWRAH
 
02.02.12
14005
LICHHAVI EXP.
SITAMARHI
ANAND VIHAR
 
02.02.12
14006
LICHHAVI EXP.
ANAND VIHAR
SITAMARHI
 
30.01.12
14309
UJJAINI EXP.
UJJAIN
DEHRADUN
 
01.02.12
14310
UJJAINI EXP.
DEHRADUN
UJJAIN
 
31.01.12
14043
GARHWAL EXP.
KOTDWAR
DELHI JN.
 
31.01.12
14044
GARHWAL EXP.
DELHI JN.
KOTDWAR
 
31.01.12
14115
ALLAHABAD- HARIDWAR EXP.
ALLAHABAD
HARIDWAR
 
31.01.12
14116
HARIDWAR-ALLAHABAD EXP.
HARIDWAR
ALLAHABAD
 
01.02.12
14265
VARANASI-DEHRADUN EXP.
VARANASI
DEHRADUN
 
31.01.12
14266
DEHRADUN-VARANSI EXP.
DEHRADUN
VARANASI
 
01.02.12
14307
PRAYAGRAJ-BAREILLY EXP.
PRAYAG
BAREILLY
 
01.02.12
14308
PRAYAGRAJ-BAREILLY EXP.
BAREILLY
PRAYAG
 
31.01.12
15011
LUCKNOW-CHANDIGARH EXP.
LUCKNOW JN.
CHANDIGARH
 
31.01.12
15012
LUCKNOW-CHANDIGARH EXP.
CHANDIGARH
LUKCNOW JN.
 
01.02.12
19771/19781
JAIPUR-AMIRTSAR EXP.
JAIPUR
AMRITSAR
 
31.01.12
19772/19782
JAIPUR-AMIRTSAR EXP.
AMRITSAR
JAIPUR
 
01.02.12
14211
INTERCITY EXP
AGRA CANTT.
NEW DELHI
 
01.02.12
14212
INTERCITY EXP
NEW DELHI
AGRA CANTT.
 
31.01.12
12460
INTERCITY EXP
AMRITSAR
NEW DELHI
 
31.01.12
14681
INTERCITY EXP
NEW DELHI
JALANDHAR CITY
 
31.01.12
14723
KALINDI EXP.
KANPUR
BHIWANI
 
31.01.12, TUE, THU, FRI, SUN

 

14724
KALINDI EXP.
BHIWANI
KANPUR CTL.
 
31.01.12, MON, WED,THU, SAT
14323/24
N.DELHI/ROHTAK EXP.
N.DELHI/ROHTAK
ROHTAK/N.DELHI
 
CANCELLED ON DATE

 

12388
JAN SADAHARAN EXP.
ANAND VIHAR
RAJENDER NAGAR
TRAINS PARTIALLY CANCELLED DUE TO DENSE FOG
 
 
TRAIN NO.
TRAIN NAME
FROM
TO
 
 
13112
LAL QUILA EXP.
DELHI JN.
KOLKATTA
 
 
13111
LAL QUILA EXP.
KOLKATA
DELHI JN.
 
 
14217
UNCHAHAR EXP.
ALLAHABAD JN.
CHANDIGARH
 
 
14218
UNCHAHAR EXP.
CHANDIGARH
ALLAHABAD JN.
 
 
64953
MATHURA JN - NIZAMUDDIN PASS
MATHURA
NIZAMUDDIN
 
 
13008
UDYAN ABHA EXP.
SRIGANGANAGAR
HOWRAH
 
 
15003
CHAURI CHAURA EXP.
KANPUR ANWARGANJ
GORAKHPUR
 
 
14711
INTERCITY EXP
HARIDWAR
SRIGANGANAGAR
 
 
14712
INTERCITY EXP
SRIGANGANAGAR
HARIDWAR
 
 
15004
CHAURI CHAURA EXP.
GORAKHPUR
KANPUR ANWARGANJ
 
 
54075/76
SHAHJAHANPUR - DELHI PASS
SHAHJHANPUR
DELHI
 
 
13007
UDYAN ABHA EXP.
HOWRAH
SRIGANGANAGAR