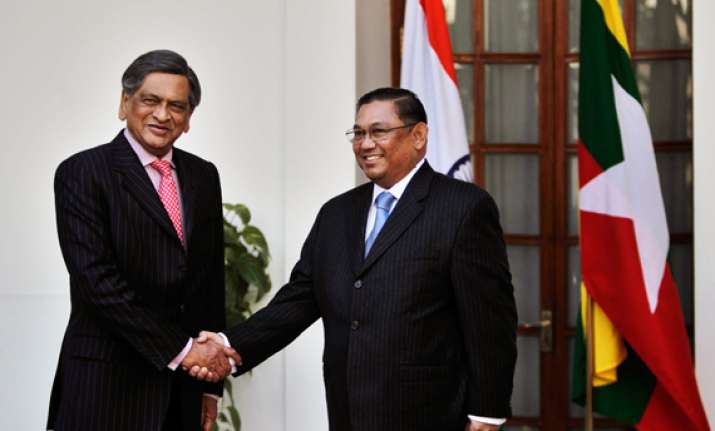 New Delhi, Jan 24: Seeking deeper bilateral ties in strategic areas between Myanmar and India, External Affairs Minister S M Krishna today said New Delhi's security interests are "intertwined" with that of Nay Pyi Taw. 

"We have traditional and civilisational relationship with Myanmar. Our trade links have been very ancient and our security interest are intertwined with Myanmar," Krishna said while welcoming Myanmar Foreign Minister Wunna Maung Lwin here.

His comments came in the backdrop of the "17th National Level Meeting to Strengthen Border Issues" between the two countries that was concluded at Nay Pyi Taw last week. 

In a statement issued by the Union Home Ministry today, it said both sides discussed in detail security related issues like presence of Indian Insurgent Groups (IIGs) along Indo-Myanmar border, exchange of intelligence information and arms smuggling.

Home Secretary R K Singh, who led the Indian delegation mentioned about IIGs camps and training facilities in Myanmar and sought Myanmar's cooperation in dealing with the IIG's activities.

On his part Lwin, who is here on an official visit, said it was a pleasure and honour for him to come here.  "We have a very historic and long tradition of bilateral relations between our two countries.

"I look forward to future bilateral discussions about the strengthening and enhancing the existing bilateral relations in the field of political, security, social and economic development of the two countries," he said. 

Incidentally, Pakistan President Asif Ali Zardari will embark on a two-day official visit to Myanmar today where he will call on pro-democracy leader Aung San Suu Kyi and hold talks with the country's top leadership.