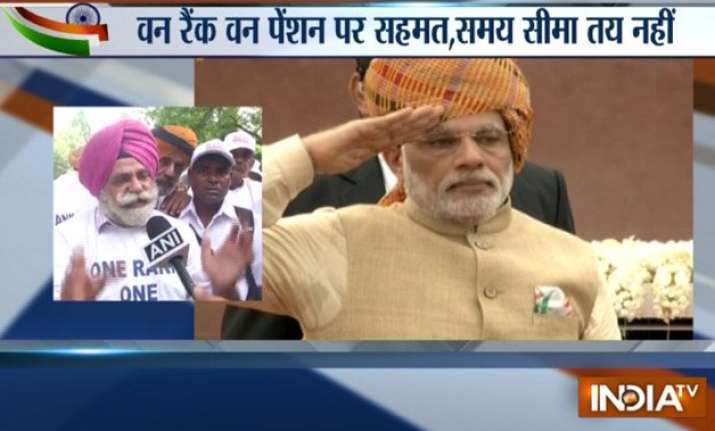 New Delhi: The failure of Prime Minister Narendra Modi to announce the implementation of One Rank One Pension (OROP) scheme has hugely disappointed the protesting ex-servicemen.
They were all expecting a positive announcement from PM Modi from the ramparts of Red Fort today.
The protesting ex-servicemen pointed out that the entire speech of Prime Minister Modi was laced with chants of 1.25 billion strong 'Team India'but his failure to announce OROP implementation has raised a question over whether he considers ex-servicemen a part of Team India or not.
" Are we not part of Team India?" asked agitated ex-servicemen protesting at Jantar Mantar in New Delhi.
Prime Minister Narendra Modi in his Independence Day speech said his government has accepted "in principle" the One Rank One Pension scheme and that he expected a "positive outcome". However, the assurance left the ex-servicemen "very disappointed".
It was anticipated that he would announce the implementation of the scheme in his speech, but Modi only repeated his government's stand.
"I am assuring again, it is not a person speaking, I am speaking on the behalf of 125 crore people, under the tri-colour, from the ramparts of Red Fort... In principle we have accepted One Rank One Pension. The phase of discussions is on," Modi said in his address to the nation.
"People of India sleep in peace because of the jawans. For the 125 crore people of Team India, the soldiers are national resource," Modi said from the ramparts of the Red Fort.
"Many governments came, OROP came in front of everyone... Everyone promised, but no solution was reached," he said.
But ex-servicemen protesting in the heart of the national capital on Saturday and shouted "shame, shame" after Modi didn't announce the scheme's implementation.
"We had high hopes with this government. We are very disappointed," Col Anil Kaul (retd), spokesperson of the United Ex-Servicemen Front said.
"It is sad. Those who have been guarding the border for 68 years are being ill treated. Neither the prime minister not the president had a word to offer after what happened yesterday," he asked, referring to the police and civic employees' swooping on the protesting retired soldiers at the Jantar Mantar protest site on Friday.
The veterans were later allowed after an intervention from home ministry.
On Saturday, as soon as they realized that Modi was not going to make any announcement, dozens of retired soldiers rose from their seats near the Jantar Mantar monument and started shouting slogans.
Many were furious and kept shouting "shame, shame". Others raised their fists in anger.
One retired officer said that Saturday was a "black Independence Day" for ex-servicemen and that their "hearts were broken".
The spokesperson said that the agitation will now be scaled up.
"We will take it to Bihar and Punjab... and we will now gherao MPs and ministers who stood in the way of OROP," Kaul said. He said all veterans will wear black bands and put black flags on their vehicles.