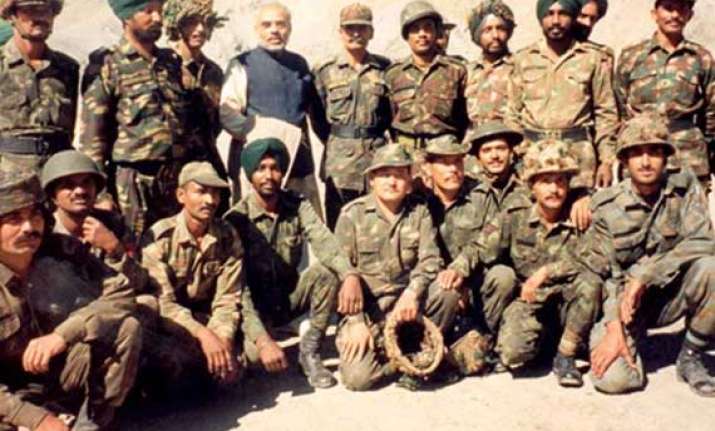 New Delhi: 26th July is a day that will remain edged in the memory of a nation for years to come. It was on this day, 15 years ago that India marked the success of Operation Vijay.
Today 15 years may have passed since the Kargil War but the memories of the battlefield lives on.
Today remember the valour and courage of these brave men and women as well as the spirit of our Armed Forces, who bear adverse conditions to ensure we live peacefully.
During the Kargil War, Narendra Modi had visited the area as a mark of solidarity with our brave soldiers.
Here we share some memories of the same.
Narendra Modi paid tributes to the brave soldiers who fought their lives during Kargil War.
Vijay Diwas is the day India pays special homage to our brave sodiers who lost their lives in the Kargil war.
He also dedicated the legendary song "Ae Mere Watan Ke Logon" which marks its golden jubilee this year to the sacrifices of the brave soldiers.
Here we share some pics of the Kargil War of 1999:
More than 500 military personnel gave their lives .
Army personnel practise their Rock climbing skills at the Kargil Battle School near Drass
Machine guns in action during the Kargil war.
Artillery Unit members working on the maintenance of the Bofors guns stationed at Apatti in the Kargil region.
An Army band practises at the Kargil war memorial site in Drass town
Pakistan Army shelling Indian Army positions.
The Kargil town, which saw numerous shelling during the war, has now grown into a tourist transit town with numerous hotels and infrastructure.