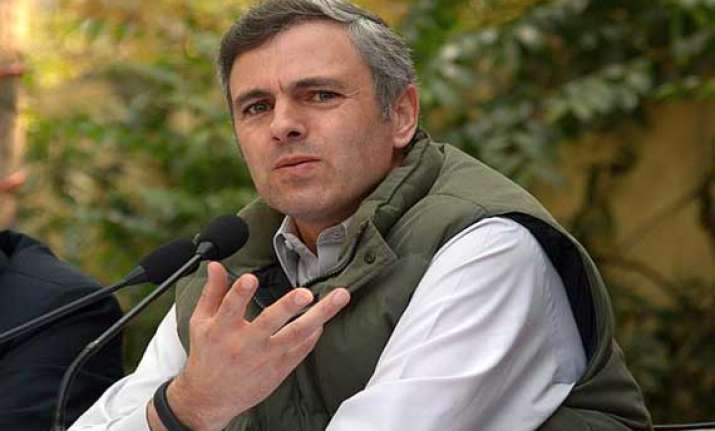 Srinagar: Jammu and Kashmir Chief Minister Omar Abdullah today accused the Centre of "brazenly discriminating" against Kashmir by allotting IIT only to the Jammu region, and alleged that PDP was hand in gloves with the BJP by maintaining "criminal silence" over the matter.
Omar said the conspicuous silence maintained by PDP and its MPs over this "lopsided and discriminatory" decision of the BJP government proved the opposition party's "covert understanding" with BJP to divide the state on regional lines by engineering a rift between Kashmir and Jammu regions.
"One can safely assume that these tricks and tactics are being employed keeping an eye on the forthcoming Assembly polls in the state. They want to perpetuate regional polarisation in the state for mutual electoral interests as was done in Parliament elections," he said.
The Chief Minister said that it were the MPs of the NC who batted for Central universities in the state.
"Unlike the criminal attitude and negligence shown towards Kashmir by PDP and its MPs, it were Parliamentarians from National Conference who raised their voices both inside and outside the Parliament and got two Central universities for the state, one each for Kashmir and Jammu," Omar said at a party workers convention in Baramulla district.
Omar, who is also working president of the National Conference, said it was a matter of "absolute shame" for the leadership of PDP that its Parliamentarians had bartered the interests of the youth of the state for petty, short-term political benefits.
"This is only the beginning and PDP MPs have already started revealing their hidden agenda. Where is PDP's voice now?" Omar asked.
In the maiden Union budget of the NDA government, Finance Minister Arun Jaitley announced setting up of an IIT in Jammu.
While welcoming the proposal to set up an IIT in Jammu, PDP president Mehbooba Mufti and party Lok Sabha member from Srinagar Tariq Hamid Karra on Thursday demanded that an IIM be established in Kashmir so that the youth in the Valley do not feel a sense of neglect.
Omar yesterday welcomed the announcement of setting up of an IIT in Jammu and expressed hope that something similar would be announced for Kashmir to maintain regional balance.
"They have announced an IIT for Jammu. It is good if Jammu gets something, but Arun Jaitley knows the politics of this state very well.
"If Jammu gets something, then Kashmir too should get something. So, if Jammu has got an IIT, then we will wait for a similar announcement for Kashmir, so that both the regions are a part of this development," he said.