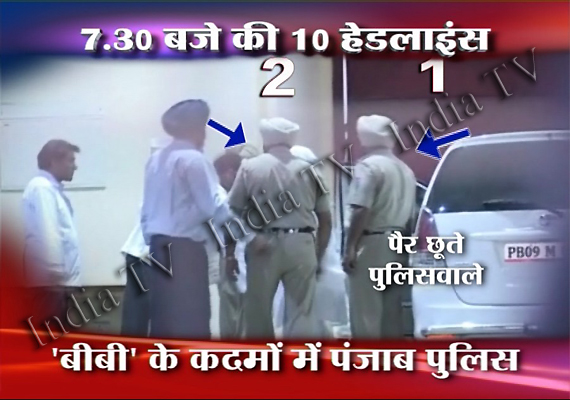 Chandigarh, Mar 31: Video footage showed senior Punjab minister Bibi Jagir Kaur, convicted in her daughter's abduction case, is getting VIP treatment in Kapurthala jail with prison officials touching her feet.
Forced to resign as Punjab's minister after her conviction and arrest, Jagir Kaur was accompanied out of the packed courtroom by police officials.  
Within hours of her being sent to the jail, her request to be transferred to the Kapurthala central jail, nearly 200 km from Patiala, was promptly acceded to. Jagir Kaur, who is head of a cash-rich "dera" (sect) in Begowal village, belongs to the district. 
Her car was allowed to be driven straight inside the Kapurthala jail complex where police officials in uniform and other jail officials in plainclothes were waiting for her arrival.  
To top it all, one official in plainclothes and a uniformed officer bent to touch her feet as she alighted from her car.  
Congress in the state today demanded the sacking of the officials in question.
Punjab Congress leader Sukhpal Singh Khaira alleged the jail officials, in both uniform and plain clothes, touched Kaur's feet and VIP treatment was being extended to her despite being convicted.
"The officials do not bother about the dignity of court and justice. They are bending before her, touching her feet..,." he told reporters.
Khaira said Kaur should have been lodged in the central jail in Patiala where she was convicted and not in a jail in Kapurthala where she enjoys clout being a MLA from Bholath constituency.
"Still better would be to lodge her in a jail outside Punjab, only then justice can be done," he claimed.
Jagir Kaur was convicted and sentenced to five years imprisonment by a CBI court in Patiala for conspiring in forcible abortion and abduction in connection with the mysterious death of her teenaged daughter Harpreet Kaur 12 years ago.