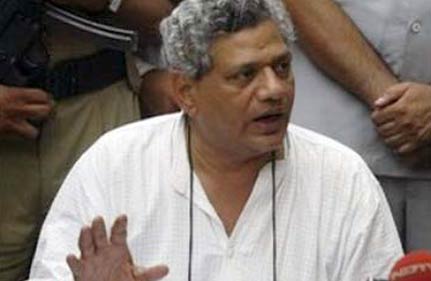 New Delhi, Nov 9: The Left may have staged protests during his visit but US President Barack Obama was "glad" to meet an Indian communist leader last evening.
"I am glad to meet an Indian communist. I am told that communists have been part of the (Indian) political mainstream," Obama told CPI(M) politburo member Sitaram Yechury at the Rashtrapati Bhawan banquet as they were introduced and both shook hands.
Yechury told Obama that the Indian communists have been in the political mainstream "throughout".
Marking a departure from their past practice, leaders and MPs of the CPI(M) and CPI, known for their anti-US stance, had attended Obama's speech in Parliament last evening.
The CPI(M) leadership had maintained that "as we hear him, he should also listen to the voice of the Indian people and their protests".
But their Left ally, Forward Bloc, had boycotted the speech.
Asked about the boycott, Yechury merely said, "That's why we are different parties".
Yechury said it was "worrisome" that the communique issued after the Obama visit "endorsed the earlier pressures" on India to open up its market for American agricultural products and "dilute" the safeguards that exist now.
This was happening particularly when Indian agriculture was in a serious crisis and farmers were suffering and committing suicide, he said.
Observing that the US was also pushing to get the IAF orders for 126 fighter jets, he said, "They will sell us some equipment and then sell similar ones to Pakistan and give them aid to buy them. That would also increase hostilities between the two neighbours".
Regarding the lifting of ban on some Indian firms from acquiring dual-use and other sensitive high-technology equipment from the US, the CPI(M) leader said Department of Atomic Energy still remained in that list, though some others have been removed from that list.
"We want to ask the UPA government that does the removal of some Indian companies from this US list implies that India would have to buy American equipments. Is it a quid pro quo? The government must reply", he said.
Yechury and CPI(M) leader in Lok Sabha, Basudeb Acharia said the government has promised to make suo motu statements on the Obama visit as well as Prime Minister Manmohan Singh's recent visits abroad.
They said the Left parties would raise several issues during the current session of Parliament, especially those concerning corruption in Adarsh Housing Society, Commonwealth Games and 2G spectrum allocation.
Besides, they would also raise the issue of price rise, Food Security Act and public distribution system and unemployment.
The parties would also question the government on railway safety issues, Yechury said, adding, "Apart from other (political) considerations, we want to say that the Railways have had the worst safety record in its history in the recent past". PTI