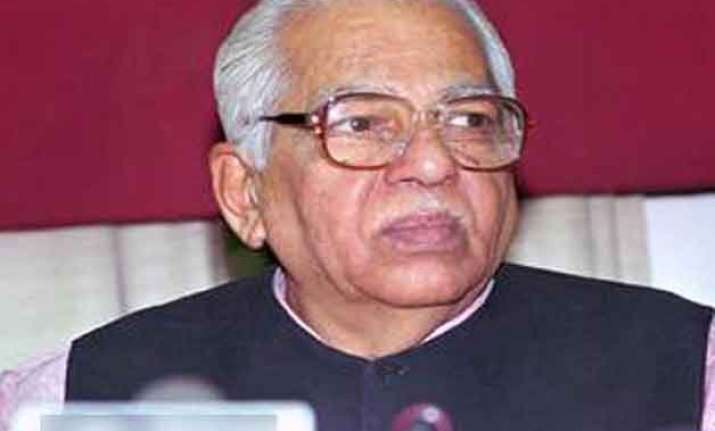 Lucknow: After his frequent criticism of the Samajwadi Party government over the law and order situation, Uttar Pradesh Governor Ram Naik has thrown a spanner in a state university's plan to confer a honorary doctorate on Chief Minister Akhilesh Yadav, saying he opposed distribution of such honours as "peanuts".
The Governor, in his capacity as the Chancellor of the Universities in the state, has advised Chandra Shekhar Azad University of Agriculture & Technology, in Kanpur, to select any one out of the seven eminent persons it had suggested for the doctorate honours, including that of Yadav.  
"I have advised the university, which had proposed the names of seven persons, to select any one of them for conferring the doctorate on. I am for maintaining the dignity and decorum of such honours.
I am not in favour of distributing them as peanuts," Naik told PTI.  Citing Yadav's refusal recently to a similar honour by Uttar Pradesh Technical University, the governor said even the CM himself does not appear very keen on such degrees and added that as the Chancellor he felt the need to guide the universities in such matters.
"Distributing such honours in bulk lowers not only the value of the degree but also of the dignity of its recipients," he said.
"As chancellor I need to guide them and tell them what I feel is right and what is wrong," he said.  The Governor, however, justified his earlier approval of giving Honoris Causa D. Litt to Samajwadi Party chief Mulayam Singh Yadav by Shakuntala Mishra National Rehabilitation University here and had himself presented the honour.  
"Mulayam Singh Yadav is an established statesman... he has proved himself by serving the people and getting elected MLA and MP several times. He has served as chief minister of the state and as defence minister at the Centre. Not many people have made such contribution," Naik said.  
Meanwhile Chandra Shekhar Azad University is understood to have decided on a name for the honorary doctorate at its convocation ceremony next week, which Governor Naik and President Pranab Mukherjee are likely to attend.