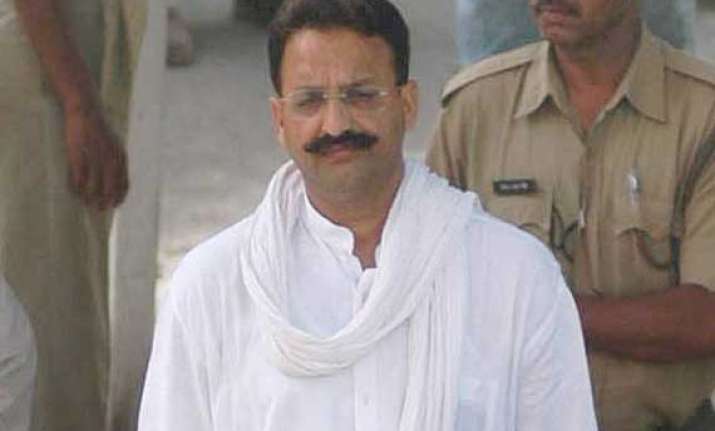 Lucknow: Mafia don-turned-politician Mukhtar Ansari today alleged that Court directives allowing him to campaign in his constituency were not followed by the authorities.
"The orders of the court were violated. I was not allowed to travel to Mau," Ansari told reporters while being taken back from Lucknow prison to Agra Prison.  The sitting legislator from UP's Mau constituency was yesterday released on parole from Central Jail in Agra for a day to campaign in the Ghosi Parliamentary constituency from where he is contesting the Lok Sabha elections.  
The Quami Ekta Dal leader was brought to Lucknow Jail at 8.30 in the evening yesterday and was sent back to Agra as campaigning ended in Ghosi which goes to polls on May 12.  "Ansari was brought here at 8.30 PM yesterday. He was sent back to Agra in the morning today," Prison Superintendent, Lucknow, D R Maurya told PTI.
Ansari, who is supporting Congress in Varanasi was released after his wife Afshan furnished a bond of Rs 1.27 lakh as per the orders of a Delhi court.  The gangster-turned-politician, who lost to BJP leader Murli Manohar Joshi by just 17,000 votes in Varanasi in 2009 is facing trial in a case under stringent Maharashtra Control of Organised Crime Act for allegedly being a member of an organised crime syndicate.
Ansari's wife complained that the release of her husband was delayed though she had submitted the bond amount.  He was arrested by the Special Cell of Delhi Police for being part of syndicate of Munna Bajrangi who was arrested for allegedly threatening Delhi businessman Ashok Tebriwal to extort Rs one crore.
A 2005 case of murder of Krishnanand Rai against him was transferred from Ghazipur in Uttar Pradesh to Delhi by the Supreme Court last year on a plea filed by Alka Rai, wife of Krishnanand Rai.