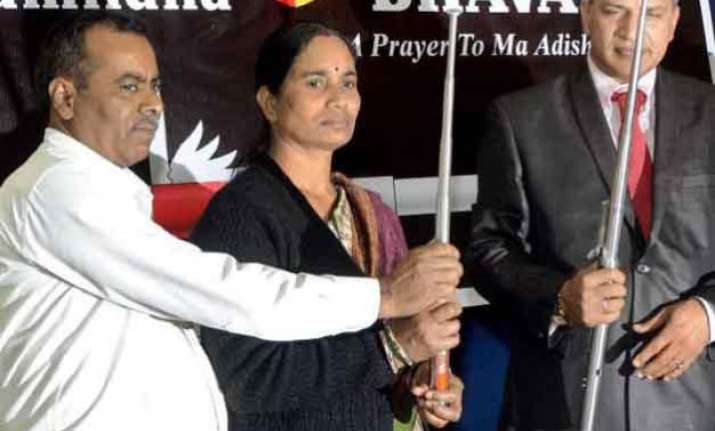 The parents of December 16 gangrape victim unveiled a comprehensive portable self defence device for women.
The device, named "Bhavani", is a collapsible baton supported with Samurai sword design, stun gun, pepper spray, panic button, pen knife, and a sewing kit and mirror. The device can be easily carried in a handbag.
Samiidha, an international company that works in the field of holistic health and Olympic sports unveiled this innovative legal and comprehensive portable self-defence device for women.
The name 'Bhavani' itself symbolises the Hindu Goddess of valour.
It's a result of an impressive collaboration of the best minds from India, Japan, Germany and United Kingdom.
The engineers from these countries joined hands under the leadership of Indian martial arts experts and sports medicine doctors to develop a small, portable and integrated device.
Bhavani includes all the qualities of the earlier devices and apps Suraksha, Amrita Personal Safety System (APSS), VithU, Jivi 2010, safe¬tipin etc devised for woman safety. It is an initiative taken to help women be self-reliant.
The device is the brain child of Pavan Kohli, a Pune-based orthopedic doctor and he describes it as the "first fully-legal and complete self-defense device for women."
The Bhavani weighs about 1.5 kilograms and at is full extent is two feet three inches long (about half the length of a baseball bat.).  The device when contracted, measures nine inches in length and the inventor says it can be carried in a handbag just like a water bottle.
The inbuilt GPRS helps trace the exact location of the victim. The stun gun serves the purpose of giving non-lethal electric shock, just enough to throw the miscreant one to two feet away. The panic button is to call for help. Samurai baton and the four-inch swiss knife come in handy during physical combat.
The device combines five kinds of engineering technologies: Electrical, electronics, chemical, telecommunications and mechanical.  
Kohli is now looking for manufacturers to license his design patent and outlets to sell the product.
Dr. Kohli says it cost him about Rs 5,000 to make and he hopes to sell the device at less than Rs 1,000 a unit.