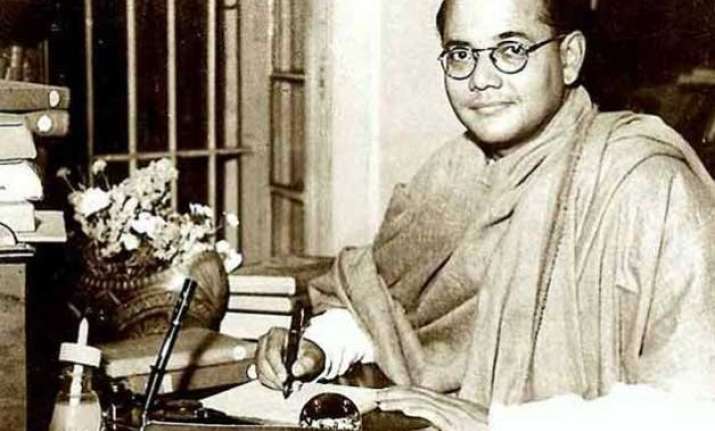 New Delhi: The Union Cabinet had adopted a position in 1995 that Netaji Subhas Chandra Bose had died in an air crash in Taipei on August 18, 1945, files declassified by the government today on his 119th birth anniversary have revealed.
As per the files, a Union Cabinet note in 1995, 50 years after his death, adopted a position that Netaji did indeed die in the plane crash. This position came in the midst of a raging controversy over the INA chief's mysterious disappearance.
The Union Cabinet note dated February 6, 1995, signed by then Home Secretary K Padmanabaiah, said, "There seems to be no scope for doubt that he died in the air crash of 18th August 1945 at Taihoku. Government of India has already accepted this position. There is no evidence whatsoever to the contrary."
The note further said, "If a few individuals/organisations have a different view, they seem to be more guided by sentimentality rather than by any rational consideration.
"The belief of these people that Netaji was alive and out of contact with any individual, but would appear when found necessary, has also lost relevance by now," the cabinet note which was prepared for the government to take a stand on bringing the "mortal remains" of Netaji from Japan to India, kept in the Bose Academy in Tokyo, read.
However, there seems to be no end to the mystery behind Netaji's disappearance. The first tranche of the files declassified today also reveal some counter claims.
The files, comprising 16,600 pages, reveal that five days after the air crash, a top official of the British Raj had weighed the pros and cons of "trying" Netaji as a "war criminal" and suggested that the "easiest way" would be to leave him where he was and not seek his release, suggesting that he may be alive then.
In the documents written five days after the air crash at Taihoku aerodrome in Taipei, Sir R F Mudie, Home Member of the Clement Attlee government's India Office, wrote to Sir Evan Jenkins, Home Secretary and the last Governor of Punjab, weighing pros and cons of how to treat Bose as a "war criminal" and its likely impact in India.
"In many ways the easiest course would be to leave him where he is and not ask for his release. He might, of course, in certain circumstances be welcomed by the Russians.
"This course would raise fewest immediate political difficulties, but the security authorities consider that in certain circumstances his presence in Russia would be so dangerous as to rule it out altogether," Mudie said in a letter and note dated August 23, 1945.
Meanwhile, political parties reacting to the development had evinced mixed responses.
While West Bengal Chief Minister Mamata Banerjee demanded that Bose be given the title of "Leader of the Nation", and said the country has the right to know the truth about his mysterious disappearance, the Congress party has made a strong pitch for declassifying all files related to Bose, but said the way Prime Minister has set about the task, raises doubts about his intentions.
"Congress has already said that it would like to see all files to be declassified because attempts are being made to raise a controversy and misguide people of the country through a mischievous political campaign", party's senior spokesman Anand Sharma said.
Among the documents released was also a series of letters exchanged between the government and various official agencies, after late MP Samar Guha claimed that Bose had made a speech on Radio Moscow following the signing of the Tashkent Pact between Prime Minister Lal Bahadur Shastri and Pakistan President Muhammad Ayub Khan in the presence of Soviet Premier Alexei Kosygin on January 10, 1966.
Guha and several MPs had also raised the matter in Parliament, quoting Indian and Western press reports.
These documents have been put up by the National Archives on a separate website for digital display. The Archives also plans to release digital copies of 25 declassified files on Bose in the public domain every month.
The papers declassified today contain 36 files of Prime Minister's office, 18 files of Ministry of Home Affairs and 46 files from Ministry of External Affairs covering the period 1956 to 2013.
The documents related to the death or disappearance of Netaji, reports of the three Commissions of Inquiry into it, those relating to the Indian National Army or Azad Hind Fauj, the INA treasure, letters by MPs and family members and papers relating to various court cases, many of them demanding clarity on the freedom fighter's last days. 
(With PTI inputs)