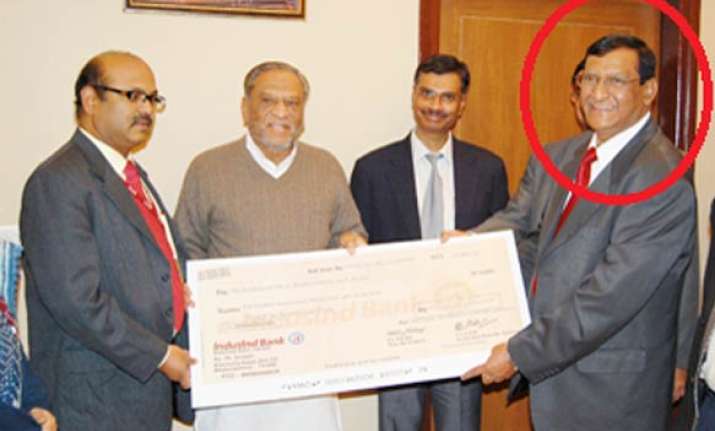 New Delhi, Feb 26: NALCO CMD Abhay Kumar Srivastava, his wife and two others, arrested in an alleged bribery case, were produced in Delhi court today which allowed CBI to quiz them in its custody for five days.
In a related development, Government suspended Srivastava and asked B L Bagra, Director (Finance), NALCO, to assume additional charge of CMD till further orders.
Srivastava was to chair a meeting of the NALCO Board of Directors in Bhubaneshwar today. The meeting has now been deferred in view of the developments.
CBI arrested the four following a tip off and recovered about 10 kgs of gold bricks and jewellery valued at around Rs 2.13 crores as also Rs 30 lakh in cash from their possession yesterday.
Special CBI Judge O P Saini sent Srivastava, Chairman-cum-Managing Director of NALCO, his wife Chandani, alleged middleman Bhushan Lal Bajaj and his wife Anita, to CBI custody till March 3 saying the allegations are "very serious" and being the CMD of public sector National Aluminum Company (NALCO), he holds a "very high ranking post".
"Accused A K Srivastava is holding a very high ranking post being the CMD of NALCO. In these circumstances, the case is required to be thoroughly investigated and for that sustained interrogation of the accused persons is required.
"Accordingly, I am satisfied that the prayer for police custody of the accused persons is justified," the judge said.
Srivastava took over as the NALCO chief in October, 2009 and before that he was CMD of the Cement Corproation of India for nearly five years.
NALCO is Asia's largest integrated aluminum complex undertaking bauxite mining, alumina refining, smelting and casting besides power generation as also rail and port operations.
CBI contended that Bajaj acted as a middlemen for obtaining official favour for Bhatia Group of Companies from Srivastava and for that he had collected huge illegal gratification from G S Bhatia, CMD of Bhatia Group of Companies, on behalf of the NALCO's CMD.
The agency alleged that Bajaj was working as a conduit between coal suppliers and Srivastava.
Bajaj, it said, was having close links with Bhatia and used three phone numbers to talk to him.
Bhatia Group of Companies is engaged in trading of imported and indigenous coal with various private companies and PSU's through its company M/s Bhatia International Ltd and Bhatia Coal Sales Ltd located in Indore.
CBI said Srivastava had instructed Bajaj to convert the brine money received from Bhatia Group of Companies into gold and to deliver it to him.
Regarding the role of wives of both the accused, CBI said Srivastava and Bajaj decided to deposit the gold through them in either of the lockers maintained at Shahjahan Road branch of Bank of Maharashtra or Mayur Vihar Phase-1 branch of Bank of India.
It said the bribe amount was converted into gold bricks which were collected by Anita and handed over to Chandani.
Gold worth Rs 2.13 cores and Rs 9.5 lakh in cash were recovered from locker number 127 of Bank of Maharashtra while Rs 15 lakh was found from Bank of India locker.
CBI said it also found Rs five lakh in cash in Chandani's bag she was carrying when she and Anita were intercepted by the agency sleuths.
Both were arrested when they came out of Bank of Maharashtra after depositing the gold in their locker.
"Documents pertaining to huge investments in movable and immovable properties were unearthed and the same are under scrutiny," CBI said in its remand application seeking seven days custodial interrogation of the accused.
The agency said Chandani impersonated as Anita by using PAN card, Voter I-card in her (Anita's) name with her own photograph for obtaining and operating the locker as well as the bank account in Bank of Maharashtra, which was in Anita's name.
The defence counsel for the accused, however, opposed CBI's plea saying the investigation is complete and searches have already been conducted by CBI.
They said their clients are ready to co-operate with CBI in the probe and thus custodial interrogation is not required.
CBI, meanwhile, submitted that they have to unearth the entire conspiracy and also ascertain the files relating to the contract for which the bribe amount was given to Srivastava.
The court ordered that the accused persons be medically examined every 48 hours and also allowed the family members and counsel to meet them during their custodial interrogation.
"Mines minister Dinsha Patel and senior ministry officials went through the CBI report. Based on the developments, Srivastava has been suspended and the senior most NALCO official B L Bagra has been given charge of CMD till further orders," a ministry official said.
The Bhubaneshwar-headquartered Navratna company produced 15.92 lakh tonnes of alumina last fiscal and has a target of producing 16.80 lakh tonnes of alumina this fiscal. PTI