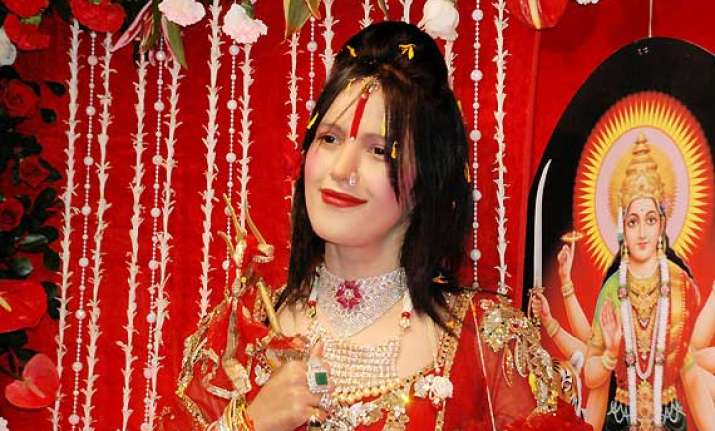 Mumbai/Hoshairpur, June 7: The mysterious 43-year-old Radhey Ma, claiming to be the incarnation of goddess Durga,  has returned to Mumbai as hundreds of her devotees gathered to welcome her and take her to the 'gufa' (cave) created in a Mumbai house.
India TV correspondent Jagdeep Sandhu went to Mukerian and Hoshiarpur to research the background of Radhey Ma, who has attracted thousands of her supporters across northern India and abroad, who consider her as the 'avatar' (incarnation) of goddess Durga.  
First, the facts: On March 3, 1969, a girl Sukhvinder Kaur was born to Sardar Ajit Singh, superintending engineer in Punjab State Electricity Board in village Doragla of Gurdaspur district.  
Says Ajit Singh: "Since childhood, we used to call her Gudiya. She was a brilliant girl, unlike others, and spent most of her time in the Kali temple near our house, singing bhajans.  
"We use to offer the goddess prasad made from desi ghee as I was a devotee of Ma Kaali since childhood.  
"Sukhvinder used to top in her class and she was good at studies. After she passed Class X, she was married to a trader in Mukerian, Mohan Singh, at the age of 17.  She had two sons from this marriage." 
After four years of conjugal life, Mohan Singh went to Doha, Qatar, for employment and did not return for a long time.  
Meanwhile, Sukhvinder Kaur again devoted most of her time to devotion for Lord Shiva. Her father Ajit Singh introduced her to her guru,  Paramhans, a reclusive saint in Mukerian.  
Dera Paramhans mahant Baldev Das showed to India TV correspondent, the 'cave' where  Paramhans used to meditate.  
It was her that Paramhans, on seeing Sukhvinder named her as Radhey Ma. At that time, Sukhvinder's eldest son was three years old and the younger son was  18 months old.  Today, Radhey Ma is a grandmother, as her sons have married.  
Radhey Ma left her family life, donned red saree and robes, carried a trishul, and her fame spred from Punjab, to Delhi and later to Mumbai.  
The 43-year-old Radhe Ma dresses gaudily like a 25-year-old woman. She is always decked in gold jewellery like bangles, nosering, tika, and at least seven gold rings on her fingers.  
Carrying a small trishul (trident) in her hand, she goes into a trance and begins dancing in the presence of her devotees, who, one by one, lift her up with both arms, and Radhey Me blesses them by putting her hand on their heads. 
The inner coteries of Radhe Ma, consists of a Chhoti Ma and Talli Baba.  Talli Baba, devotees say, was inducted by Radhey Ma when he was a six-year-old boy.  
To meet Radhe Ma, one has to contact Talli Baba and then Chhoti Ma.  
Several actors in Bollywood, including Dolly Bindra, are devotees of Radhe Ma.  They claim that Radhe Ma has magical powers.  
The jury is still out about the spiritual powers of the lady from Punjab, as rationalists and other spiritual figures question her bonafides.