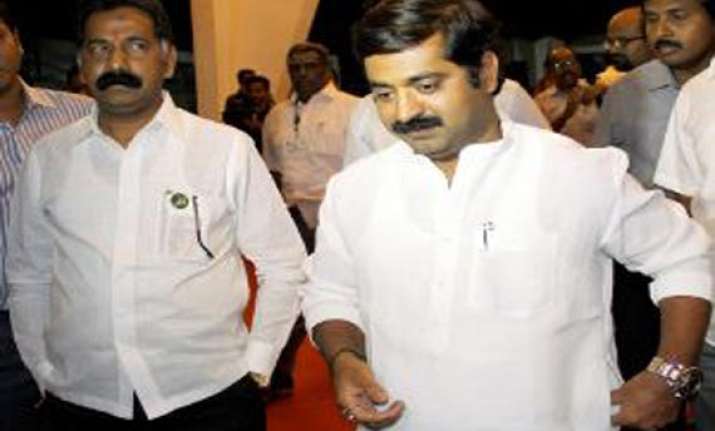 Mumbai, Mar 25: A Maharashtra police officer, assaulted by legislators in the state assembly premises, was today suspended even as two MLAs allegedly involved in the incident walked out of jail on bail.
Buying peace with legislators who disrupted the proceedings of the two Houses of legislature over the last few days demanding action against the officer, Home Minister R R Patil announced in the assembly the suspension of Assistant Police Inspector Sachin Suryavanshi for "misbehaving" with Bahujan Vikas Agadhi MLA Kshitij Thakur.
Patil said he had watched the CD of the "verbal duel" Suryavanshi had with Thakur on Bandra-Worli sealink on March 18 following which he had announced in the legislative council that the incident will be probed and the officer would sent on forced leave.
"As per the preliminary inquiry by DCP S R Nilevad (DCP, Traffic-South), Suryavanshi was rude to Thakur, which is unbecoming of a police officer. He will be suspended till the inquiry is complete," Patil said.
He also announced the setting up of a committee headed by seniormost MLA belonging to Peasants and Workers Party (PWP) Ganpatrao Deshmukh to probe the incident of assault on Suryavanshi by a group of legislators. Dilip Sopal (Ind), Nawab Malik (NCP), Girish Bapat (BJP), R M Wani (Shiv Sena), Sadashiv Patil (Congress) and Uttamrao Dikle (MNS) would be on the panel.
A proposal to this effect was adopted by the House by a voice vote.
On the other hand, MLAs Kshitij Thakur and Ram Kadam (MNS) today walked out of jail as Metropolitan Magistrate U M Padwad ordered their release on bail.
The court ordered their release on sureties of Rs 15,000 each and directed them to appear before the Crime Branch office in Mumbai every Wednesday between 11 AM and 1 PM, till the completion of investigation.
The two were arrested last Thursday after they had surrendered before the Crime Branch following registration of an FIR against them based on a complaint by Suryavanshi.
Speaker Dilip Walse Patil asked the chairman of the committee Deshmukh to submit his report as early as possible.
The decision to set up a committee was taken at a meeting leaders of various parties had with Chief Minister Prithviraj Chavan.
The terms of reference of the committee would include whether suspension of five legislators, accused of beating up the police officer, should be revoked or not.
According to sources, the panel would recommend whether the suspension of five MLAs should be revoked and, if not, what should be its duration, besides ascertaining if more MLAs were involved in the incident.
The committee, according to insiders, is expected to submit its report in a week's time.
The two Houses of the legislature had been witnessing frequent adjournments over the issue during the last few days.
The legislative assembly witnessed six adjournments today with members cutting across party lines demanding action against Suryavanshi for allegedly misbehaving with Thakur.
They said their fellow MLAs had been wrongly booked under section 353 of the IPC (obstructing a government servant from discharging his duties) as Suryavanshi was not on duty when he was allegedly assaulted.
Harshvardhan Jadhav (MNS), who was allegedly beaten up by the police two years ago, said seven policemen had been booked under section 307 (attempt to murder) in the case but nobody was arrested.
"Policemen booked under section 307 are promoted while MLAs wrongly booked under section 353 (obstructing government servant from discharging duties) are sent to jail. Why laws should be different for the police and legislators?" he added.
Ashish Jaiswal (Shiv Sena) said Suryavanshi was from traffic department of the Police and "what traffic duty was he performing in Vidhan Bhavan that MLAs were booked for obstructing him from perfoming his duties"?
Home Minister Patil said he would make a statement on Harshvardhan Jadhav's case tomorrow. "Since the matter is subjudice, I will take legal opinion and make a statement tomorrow," he said.
Suryavanshi, attached to the Worli police station, was beaten black and blue by a group of MLAs outside the visitors gallery at the state's legislature complex on Tuesday, a day after he had stopped Thakur's vehicle on Bandra-Worli Sea Link for speeding and slapped a fine.
On Wednesday, the assembly had suspended five MLAs—Ram Kadam (MNS), Jaykumar Rawal (BJP), Kshitij Thakur (Bahujan Vikas Agadhi), Rajan Salvi (Shiv Sena) and Pradeep Jaiswal (Independent)--for their alleged involvement in the episode.