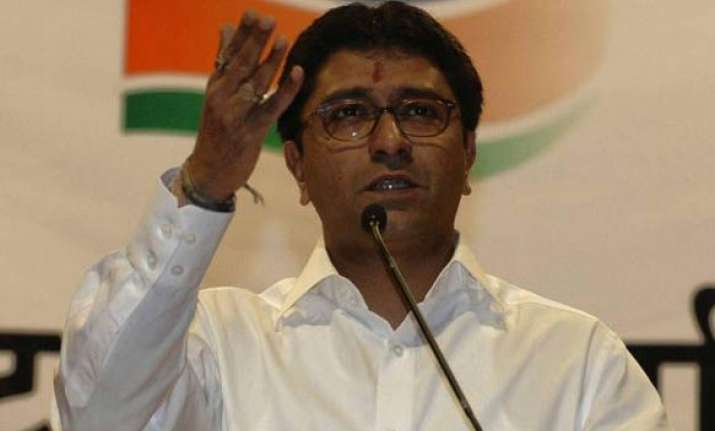 Ahmedabad, Aug 4 : Chauvinistic Maharashtra Navnirman Sena chief Raj Thackeray switched from Marathi to Hindi the moment he set foot on Gujarat soil. 

All those who met the MNS chief here on Wednesday, the first day of his nine-day-long state visit of Gujarat, were left wondering at the language in which he chose to interact with them, reports Mumbai Mirror.

Raj Thackeray, known for his acerbic tongue and roughish ways against Hindi and Hindi-speaking people on his home turf, looked pleased and at ease speaking in Hindi everywhere and with everyone he met in Ahmedabad and Gandhinagar.

He realised he had fallen into a trap of his own creation in the evening when someone from the media drew his attention to his opposition to Hindi in Maharashtra.

Thackeray blamed media for creating controversies and promptly switched over to Marathi.But by that time, the word had spread far and wide. 

"This won't do. Violently opposing Hindi in Maharashtra and speaking in Hindi outside the state is rank opportunism. In this era of globalisation, this is not done", said translator Kishor Gaud.

"If he has so much love for his mother tongue, I could have offered my services as an interpreter. I know Marathi and Gujarati languages and cultures well to help him speak in his mother tongue even in Gujarat", said Gaud who has translated as many as 25 Marathi books in Gujarati.

Thackeray began his Gujarat "study tour" with a visit to Sardar Patel Memorial in Shahibaug in the morning. He spoke to memorial officials, and sources said he evinced keen interest in knowing about the life and work of the Iron Man of India.

All in Hindi, said a memorial official.

The next stop was Sabarmati Ashram. He paid tribute to the Father of the Nation and was presented with a copy of his autobiography in Marathi Satyache Prayog by ashram director Amrut Modi.

Thackeray and his wife Sharmila interacted with trustees and members of the ashram.Those present there were quite impressed with their eagerness to know about Gandhi.

Questions were few but sharp, said Modi. All in Hindi, Modi added. Ashram officials offered him the VIP visitors book in which he could have entered his tribute or comment.

Later in the evening, Raj Thackeray said, I don't know Gujarati, I wanted to speak in Marathi which people here won't understand, so naturally I switched to Hindi.