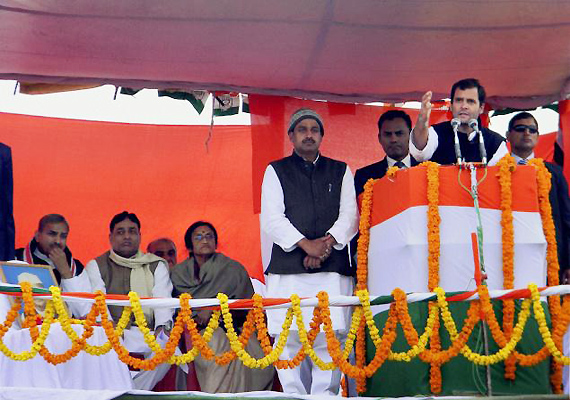 Moradabad/Aligarh, Feb 22: Star campaigner Rahul Gandhi today said the Samajwadi Party was keen on forging an alliance with the Congress for the Uttar Pradesh assembly poll but his party had rejected it.

"(SP president) Mulayam Singh Yadav was eager for an electoral tie-up with the Congress which was rejected by my party," he told a rally in Moradabad.

"Our alliance is only with the people," the Gandhi scion said.

At an election rally in Aligarh, the Congress general secretary accused Mulayam of making promises to Muslims on job quota which he could not fulfil.

"Mulayam is making tall promises to the Muslim community which he knows well that he will never be able to fulfil," he said.

Rahul said Mulayam had been the Chief Minister of Uttar Pradesh on three occasions and his record on this issue speaks for itself.

"If the SP supremo is sincere about giving quota to backward Muslims, then he should try to emulate the track record of Congress-ruled states including Kerala and Andhra Pradesh. But he will never do it, that I can assure you," the Congress leader said.

He said his party's commitment on the upliftment of the underprivileged sections, especially Muslims, could be gauged from its conviction to set up the Sachar Committee which has brought to light the plight of Muslims. 

"Our objective is to fulfil the recommendations of the Sachar Committee which we are already doing in Congress-ruled states," Rahul said.

"I have not come here to make promises which I cannot fulfil. I have tasks to be done and until these goals are achieved, I will not leave the poor, the underprivileged and the farmers."

Rahul said for more than 22 years, the Congress was kept away from power in Uttar Pradesh and this was the main reason for the "pathetic condition" of the state. 

"We have a roadmap for developing UP's infrastructure including roads and electricity and generating jobs for the youth. Given an opportunity, we will never let down the common man," he said.

Addressing the rally in Moradabad with RLD MP Jayant Chaudhry, Rahul accused the Mayawati government of massive irregularities in implementation of central schemes. 

"The elephant(BSP's poll symbol) is eating thousands of crores of rupees pertaining to central government schemes," he said.

Expelled BSP minister Akbar Hussain joined the Congress in the presence of Rahul.