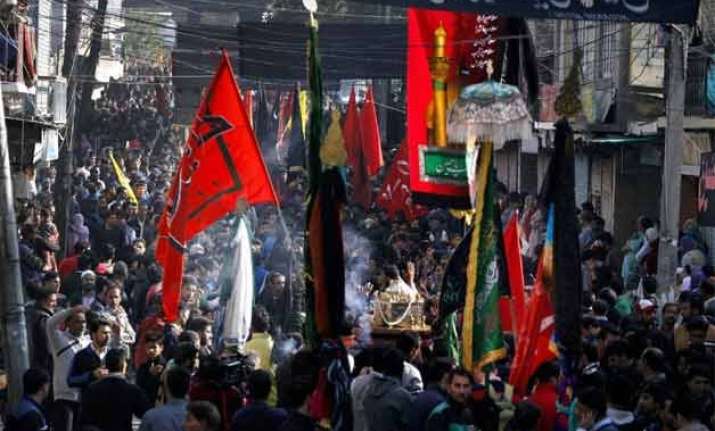 New Delhi: Barring stone-pelting over use of a route for procession in Gwalior leading to curfew and injury to three persons in Bihar, Muharram was observed peacefully across the country as Muslims took out taziya processions, flagellated themselves and offered special prayers today.
Slogans of "Ya Hussein" rend the air as Shias took part in the ceremonial mourning commemorating the martyrdom of Prophet Mohammed's grandson Imam Hussein with flags and replicas of Hussein's tomb in their hands. Sunnis offered prayers,observed fasts and distributed alms on the occasion.
On this day, Muslims remember Hussein who died fighting the forces of caliph Yazid around 1,400 years ago at Karbala in Iraq.
In the national capital, several taziya processions weretaken out. Most of these processions culminated at Karbala in Jor Bagh in south Delhi.
The religious fervour was marred in Gwalior, where curfew was imposed today in a locality following protest by an organisation over the route of Muharram procession.
The organisation was protesting after a dispute about the procession route last night. Stone-pelting was also reported in the area, following which the curfew was imposed around 4.30 pm.
The situation was brought under control and there was no trouble elsewhere in the city, a police official said.
In Madhubani in Bihar, three persons were injured in aclash between members of two communities when a stone was hurled on a tazia procession.
Superintendent of Police Akhtar Hussain said the clash took place near Gandhi Chowk, adding the situation now was under control.
In Uttar Pradesh, stray incidents were reported from Kushinagar and Jaunpur districts following disputes over minor issues but timely intervention by police prevented any ugly situation.
In capital Lucknow, taziya processions were taken out amid tight security arrangements. Over 20 companies of PAC and RAF were deployed in Lucknow at the routes identified for the procession.
In some parts of Srinagar, curfew-like restrictions were imposed to maintain law and order as taziya processions ended peacefully with the highest congregation of over 40,000 mourners from various parts assembling at Imambada Zadibal.
Braving rains, senior religious and political leaders of the community also took part in the processions. However, the authorities did not allow the procession from the traditional route - Abi Guzar in the heart of Srinagar.