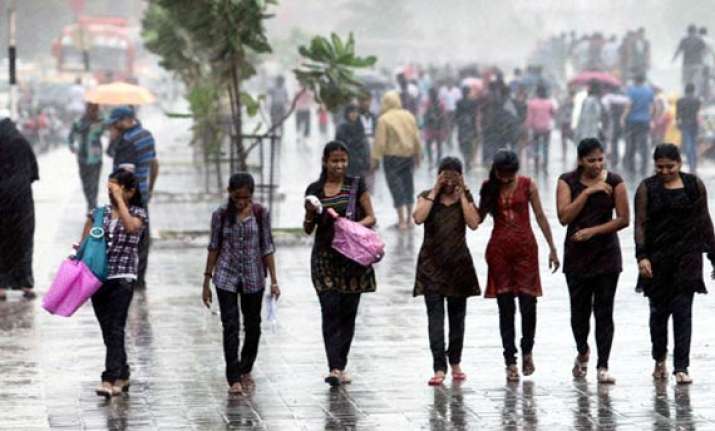 Bhopal: Spate of rainfall lashed several parts of Madhya Pradesh with the state recording an average of 103 mm rainfall in the last 24 hours, Met officials said.  
According to an official release, Madhya Pradesh received an average rainfall of 103 mm yesterday across the state, with districts of Annupur, Balaghat, Seoni, Tikamghar receiving heavy downpour.
Entire Malwa region, including districts Barwani, Dhar, Indore, Jhabua, Alirajpur, Khandwa, Kharone, Neemuch, Ratlam and Ujjain, however, remained dry with scanty rains.  
Anuppur district registered the highest of 103 mm rainfall, Balaghat 71 mm, Chhatarpur 28 mm, Chhindwara 22 mm, Damoh 28 mm, Dindori 43 mm, Jabalpur 7 mm, Katni 27 mm, Mandla 62 mm, Narsinghpur 48 mm, Panna 32 mm, Rewa 31 mm, Sagar 33 mm, Satna 32.5 mm, Seoni 73 mm, Shahdol 24 mm, Sidhi 20 mm, Singrauli 14 mm, Tikamgarh 51 mm and 29 mm rainfall was registered in Umaria district.
Similarly in Western Madhya Pradesh, Ashok Nagar district received 15 mm rainfall, Betul 21 mm, Bhind 3 mm, Bhopal 8 mm, Burhanpur 11 mm, Datia 28 mm, Dewas 4 mm, Guna 12 mm, Gwalior 11 mm, Harda 7 mm, Hoshangabad 3 mm, Mandsaur 21 mm, Rajgarh 9 mm, Sehore 11 mm, Shajapur 3 mm, Sheopur 27 mm, Shivpuri 7 mm and 11 mm rainfall was registered in Vidisha district.