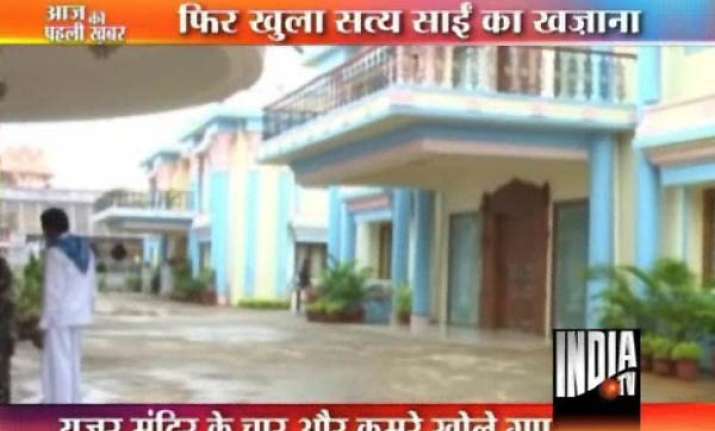 Puttaparthi, Jul 3 : After the disclosure of 98 kg of gold, 307 kg of silver and Rs 11.56 crore cash from late Sathya Sai Baba's personal chamber 'Yajur Mandir' on  June 16, more valuables have been found from four more rooms of Yajur Mandir at a subsequent search by officials in Puttaparthi on Saturday.

Anantapur Joint Collector Anita Ramachandran and Additional Joint Collector Chennakesavulu spent almost eight hours in making an exhaustive inventory in the 4 rooms at Yajur Madirwhich were not searched during the earlier scrutiny by the Trust members and Income Tax Officers.

After the completion of the task the revenue officials declared assets worth around Rs 77 lakhs.

The detailed inventory includes 905 grams of gold worth around Rs 16 lakhs, 116 kg of silver worth around Rs 58 lakhs and a diamond studded ring worth around 3 lakhs.

"Only jewellery was found from the four rooms searched today. There was no cash.  Sathya Sai's personal chamber was also searched again but no valuable was found there and whatever was found from the chamber has been kept in the Yajur Mandir which will be deposited in the office on next working day", said Anant Raman, Spokesman, Sai Trust.

Unconfirmed reports from Puttaparthi point out that the idols, silk cloths, expensive watches, rings and pens were also found.