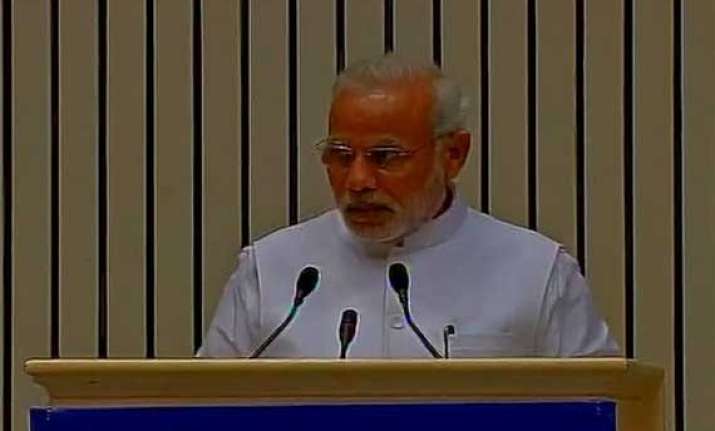 New Delhi: Showering praises on Nanaji Deshmukh on the occasion of his 98th birth anniversary today, Prime Minister Narendra Modi today said that the RSS ideologue had withdrawn from politics when he was at the prime of his political career to serve the people.
Launching the book 'Viraat-Purush Nanaji' at Vigyan Bhawan today, Modi lauded Nanaji's energy, drive and commitment towards social welfare and nation-building and said he was an inspiration for many.
"At the age of 60, he (Nanaji) quit politics at the top of his political career. He did not merely make an announcement but actually did it and devoted himself to villages for the cause of rural development," Modi said.
Praising Nanaji's ability to forge political consensus, Modi said he had created an atmosphere inside jail to fight the Emergency, thus paving the way for the creation of the Janata Party and its victory in the elections after the Emergency.
"Nanaji from jail created an atmosphere and said that we have to fight together and that is when Janata Party was born. Nanaji was proven right. At that time, many thought of not contesting elections as no one could win lodged as they were in jail," Modi said.
The prime minister stressed that Nanaji had great respect for Jayaprakash Narayan and had it not been for him, the socialist leader would not have been alive as Nanaji had once taken on himself the blow of a deadly assault on Narayan.
Incidentally, today is also Narayan's 112th birth anniversary.
Modi said it was through Nanaji's efforts that the first 'Saraswati Shishu Mandir' was opened in Gorakhpur before its expansion across India.
It was through Nanaji's inspiration that scores of youths devoted themselves to the cause of social upliftment and 'Gramodaya', the prime minister added.
Nanaji even motivated several famous industrialists to work for social causes, Modi said, noting that Nanaji had a scientific temper and always believed that "science is universal, but technology must be local".
Modi also highlighted Nanaji's role as an organiser who inspired many like him and said that even in his final days one could see the sharpness of his thinking reflected in the letters that he wrote.
RSS leader Dattatreya Hosabale said that after renouncing politics, Nanaji worked for 33 years for the cause of rural development.
'Viraat-Purush Nanaji', a six volume work compiled by the Deendayal Research Institute, is a collection of the writings of Nanaji. Talking about the publication, Modi hoped it would nudge future generations towards nation building.
Veteran BJP leader LK Advani, RSS second-in-command Bhayyaji Joshi, Gujarat Governor OP Kohli and Union Ministers Thawar Chand Gehlot and Harsh Vardhan were among those present at the event.