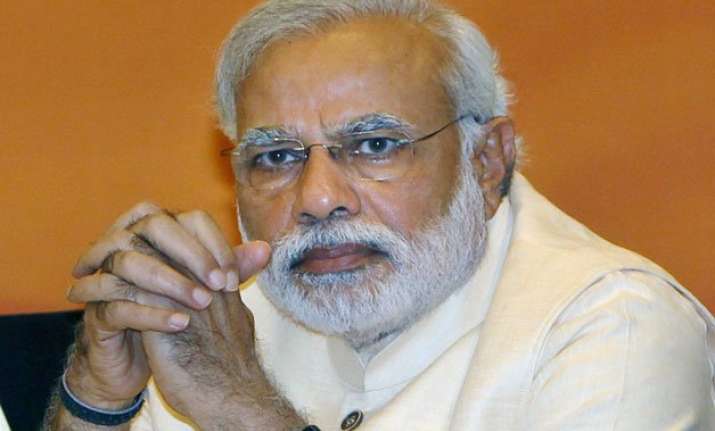 New Delhi: Prime Minister Narendra Modi on Monday invoked the welfare of farmers' children to justify the Land Bill as he maintained that efforts are being made to "mislead" the farming community over the new measure.
Pitching for the proposed new legislation that is facing stiff resistance from almost all opposition parties, he said it is necessary to bring about development which will benefit the farmers and their families as well.
"Efforts are being made to mislead farmers in various ways. I talked about it yesterday also in my 'Mann Ki Baat' programme," Modi said addressing an event here organised in the memory of freedom fighters Bhagat Singh, Sukhdev and Rajguru on their martyrdom day.
He said if the nation makes progress, it will benefit the farmers as well as their future generations, many of whom want employment in areas other than farming.
"If there is no development, what will happen to your children? Do you want them to live in 'jhuggi jhopris' (slums) of Delhi and Mumbai? Development will bring benefits for the farmer, their children as well as their villages," the Prime Minister said.
The controversial Bill was passed by Lok Sabha earlier this month but has got stuck in Rajya Sabha because of a united opposition which has stepped up its campaign against the measure.
Talking about corruption, he said it had "destroyed" the country. Targeting the previous UPA government, he said that the coal-block allocation scam was "bigger" than assessed by the CAG. He said that the CAG's assessment of the loss in the coal-block allocation scam was much less than what it actually was.
When the CAG concluded that the loss was to the tune of Rs 1.86 lakh crore, there was "disbelief about such a huge figure"."There was also a 'zero loss theory'," he said targeting the previous UPA ministers who had contended so.
After the scam came to light, Supreme Court cancelled the allocation of 204 coal blocks, the Prime Minister noted."This happened as soon as we came to power. It was their sin but we faced a situation where power plants were about to face closure on account of lack of coal. So, we decided to go for auction.
"Out of 204 coal blocks cancelled, only 20 have been auctioned so far and more than 180 are still left. Since an honest government is in place, Rs two lakh crore was deposited in the national treasury on account of auction of these 20 coal blocks," Modi said, adding that it will benefit the poor.
Slamming the previous Congress-led government without naming it, he said, "they left no areas" (in terms of corruption). "LED bulbs were purchased in 2014 at Rs 300 apiece. When we came, we decided the rate of a bulb should be Rs 80 each.
So on each bulb, we saved Rs 220. You brought us here because of our honesty, we did it," Modi told the gathering.He also talked about the "crisis" being faced by farmers, first on account of deficit rainfall last year and now due to hailstorm, and promised to do all that his government can along with the states.
He said he had told his ministers to get an assessment conducted of the losses."A survey has started. The states and the Centre are with you in this crisis situation. We will not hesitate in giving whatever help we can," the Prime Minister said.
At the same time, he referred to his government's new scheme Soil Health Card Yojana and said it is aimed at benefiting the farmers as they can assess how much water and fertilisers they require for farming their land.He also announced that a new horticulture research institute to be set up in Amritsar would be named after Bhagat Singh.