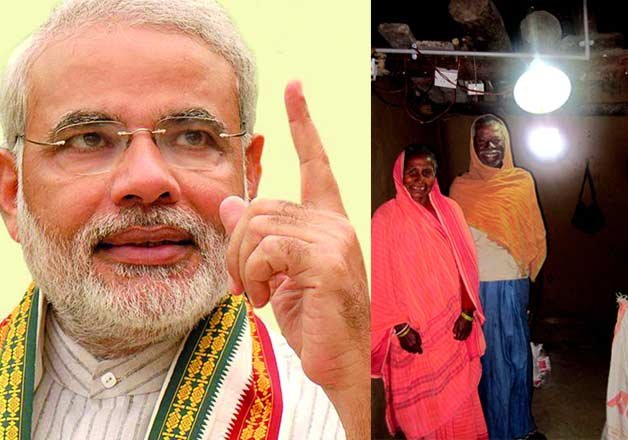 New Delhi: As many as 253 villages were electrified last week under Deen Dayal Upadhyaya Gram Jyoti Yojna (DDUGJY).
Of these villages, 111 are in Odisha, 81 in Assam, 40 in Jharkhand, 13 in Rajasthan, 4 in Bihar, 3 in Madhya Pradesh, and 1 in Uttar Pradesh
Under the watchful eye of Power minister Piyush Goyal, the campaign has been among the most successful intiatives of the Modi government.
PM Narendra Modi launched the much coveted scheme in July 2015, with the aim of electrifying 18,452 villages by May 1, 2018 – within 1,000 days.
Going by the latest report, the government is right ahead of its target.
According to a statement by Power Ministry, as many as 5,279 villages were electrified in year 2015-16.
Of the remaining 13,173 villages, 9,228 are to be electrified through grid and 3,398 off-grid, while 547 villages are to be electrified by state governments.
"Total 1,654 villages were electrified during April 2015 to August 14, 2015 and after taking initiative by Government of India for taking it on mission mode, 3,127 additional villages have been electrified from 15th August 2015 to 31st January," the statement said.
In most villages, the agricultural and domestic power load usually has the same distribution network. But because of inadequate power supply, distribution units have to resort to load shedding, which affects both agricultural and non-agricultural consumers.
To overcome this obstacle the scheme also focusses on separation of electrical feeders for rural households and agriculture requirements.
As per the plan, thousands of kilometres of new lines will be laid and hundreds of new substations will be launched to rpovide round the clock electricity supply in rural households as well as to agricultural consumers.
Besides,the initiative also aims to improve Sub-transmission and distribution network to improve the quality and reliability of the supply.
Scheme has an outlay of ₹760 billion (US$11 billion) for implementation of the projects under which Government of India shall provide Grant of ₹630 billion (US$9.3 billion)
Benefits
   * All villages and households shall be electrified
    
   * Increase in agriculture yield
   
   * Business of Small and household enterprises shall grow resulting into new avenues for employment
   
   * Improvement in Health, Education, Banking (ATM) services
   * Improvement in accessibility to radio, telephone, television, internet and mobile etc
   
   * Betterment in social security due to availability of electricity
   * Accessibility of electricity to schools, panchayats, hospitals and police stations etc
    
   * Rural areas shall get increased opportunities for comprehensive development