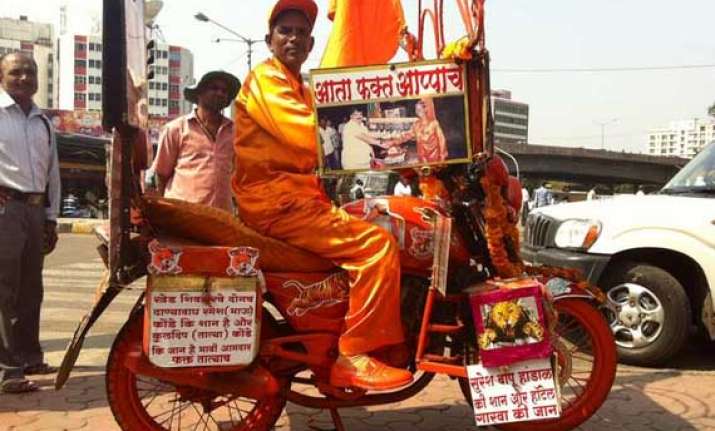 Mumbai, Nov 18: "I still can't believe our beloved Balasaheb is gone," said a grieving 44-year-old Mohan Sahebrao Yadav from Pune.
The 52-year-old Shiv Sainik, from Nangaon in Pune, who worships Balasaheb Thackeray and his late wife Meenatai as his only Gods, expressed deep sadness over the demise of Bal Thackeray. Mohan Sahebrao Yadav, had arrived in the city accompanied by his son on an antique motor bike.
Such is his devotion to Shiv Sena supremo that he only wears saffron shirt, saffron trousers, saffron cap, saffron shoes, saffron colored motorcycle, saffron wheels, saffron pen and even a saffron mobile phone. He has even changed his wife's name to Meenatai, name of Bal Thackeray's wife. The couple has two sons which they have named as Raj and Uddhav. Even his grocery store was called 'Raj, Uddhav kirana store', but now it is just Uddhav kirana store.
"Matoshree is the most revered temple for me as my deity [Thackeray] lives in the sanctum. His instructions are like gospel to me," said a grieving Yadav.
Yadav, a staunch Shiv Sena loyalist joined the party about 25 years ago, a step which he claims has changed his life. According to him, it was Balasaheb's powerful speeches that made him a dedicated followed of Balasaheb and he wants to be a 'Tiger' just like him.
His saffron coloured Bajaj-Pulsar motorcycle is also nothing short of amazement to the onlookers. His bike is decked with photographs of the entire Thackeray household. The seat cover is a fake tiger skin and the wheels are also painted in bright saffron color.
His dedication towards Balasaheb, undoubtedly, makes him a winner amongst other Thackeray fans.