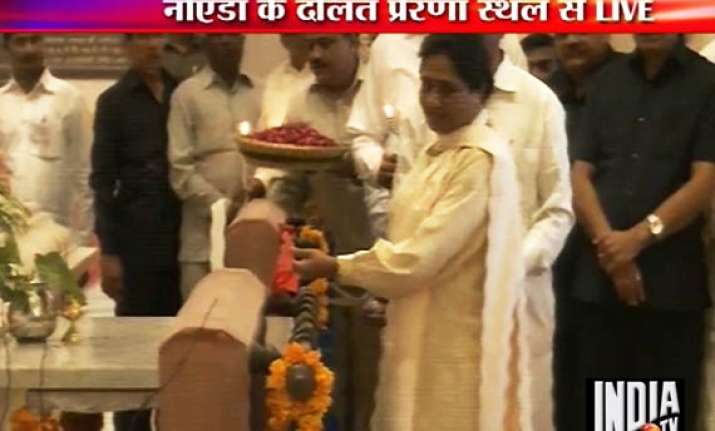 Noida, Oct 14: Uttar Pradesh chief minister Mayawati today alleged that the Congress was planning to instal either Meira Kumar or Sushilkumar Shinde (both Dalits) as Prime Minister just before the UP assembly polls scheduled next year to sway the Dalit vote bank in the state.
 
Mayawati was inaugurating the Rs 680-crore National Dalit Memorial (Rashtriya Dalit Prerna Sthal), a controversial project which was cleared  by Supreme Court after a year-long litigation in Noida. In reality, it marked the launch of her poll campaign in UP.
 
"The Congress party, with a heavy heart, and a heavy stone on its chest, might  out of fear of BSP possibly appoint either Meira Kumar or Sushilkumar Shinde as Prime Minister for a brief period just before the UP assembly elections, but I can challenge them that our Dalit vote bank is not going to be swayed. Not a single dalit vote will be going to the Congress", Mayawati said.
 
The UP chief minister played the Dalit card to the hilt in her long, rambling speech, when she said that the Congress government took up a large chunk of land on the western shores of Yamuna river in Delhi to create memorials for members of the Nehru family and Mahatma Gandhi, but did not declare even a day's holiday on the death of Late Kanshi Ram.
 
"Now we in the BSP have created a Dalit memorial on the right side of Yamuna adjoining Delhi to give them the right reply", said Mayawati.
 
The UP chief minister also revealed that Congress president Sonia Gandhi had promised her in 2003 that her party would not pursue the disproportionate assets case against her once the party returned to power, but she reneged on her promise.
 
"On October 8, 2003, the then BJP government at the centre through the CBI carried out raids on the residences of myself and my relatives and instituted a disproportionate assets case against me. That day, Sonia Gandhi, who was in opposition, sympathised with me and had promised that her party would not pursue the case once her party returned to power", said Mayawati.
 
"But for the last eight years, the Congress government did not keep its word. The Income Tax department gave me a clean chit, but the CBI is yet to withdraw the case. Because of political interest, the Congress is interested in keeping the issue alive", she said.
 
Both the Congress and the BJP had been misusing the CBI, and are having a caste-based complex towards BSP, Mayawati said.
 
Mayawati's 45-minute long speech looked more like an election speech, instead of a staid formal inauguration speech. It was meant for consumption by her Dalit votebank in UP, which is going to polls in May next year. 
 
The UP chief minister criticized Congress, BJP and Samajwadi Party and highlighted her government's achievements.
 
Mayawati also offered to Team Anna Hazare and Swami Ramdev to carry on their movements against corruption in UP without any hurdles.
 
"My government and my party will have no objection if Anna Hazare or Ramdev or any other organisation  carries on  their movement against corruption in the nation's best interests  and without any vested interest", she said.
 
Mayawati reminded that she had taken action against some of her ministers who were tainted by charges of corruption.