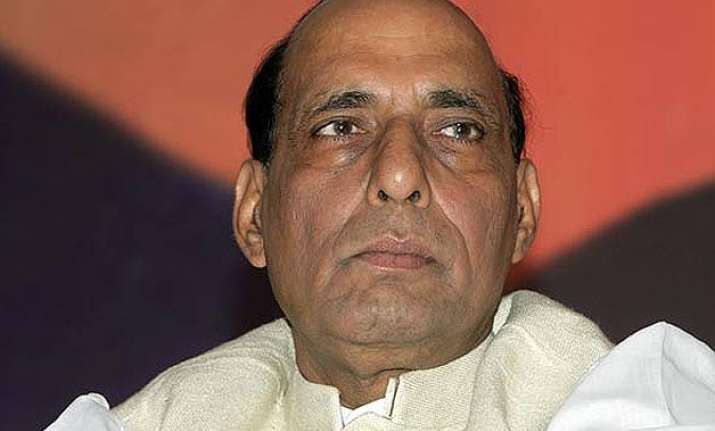 Kanpur: Jammu and Kashmir's hardline separatist leader Masrat Alam will be sent to jail again, Home Minister Rajnath Singh said on Friday, adding that those charged with sedition will not be forgiven.
Alam, who was placed under house arrest on Thursday night, is in police detention in Jammu and Kashmir's Badgam district where a police complaint was lodged against him for raising pro-Pakistan slogans and waving the Pakistani flag on April 15.
Asked if he will be sent to jail again, Rajnath Singh said: "Yes he will go to jail... Wait and watch what happens."
"I want to assure the country, the government will not compromise on the unity and integrity of the country. Sedition will not be forgiven," he added.
Another separatist leader, Syed Ali Geelani, was also placed under house arrest.
Police lodged a first information report (FIR) against Masrat Alam on April 15 after he led a pro-Geelani rally during which people displayed Pakistani flags and raised pro-Pakistan slogans.
Geelan had returned to the Kashmir Valley after spending more than three months in New Delhi due to health reasons.
Youths, surrounding Alam, displayed Pakistani flags at the rally, raised pro-Pakistan and pro-freedom slogans and even climbed the outer wall of the police headquarters in the area to display Pakistani flags for the media cameras.
Asked why permission was given for the rally, Rajnath Singh said: "Probably, the state government did not have an idea it will lead to such a situation."
On March 7, the Jammu and Kashmir government had released Alam from preventive detention after more than four years.
Alam was arrested during the 2010 unrest in the Kashmir Valley. He was accused of inciting youth during the unrest, leading to clashes between mobs and security forces in which at least 112 people were killed.