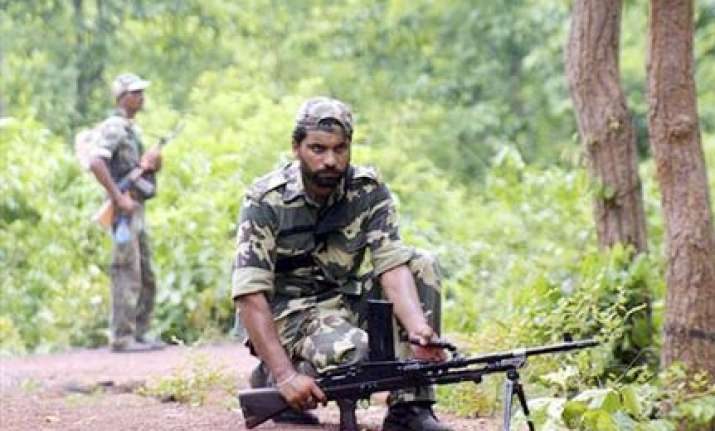 Raipur: The Maoists in Chhattisgarh expanded their target base on Friday when for the first time the Left extremists attacked and killed three personnel of the Indo Tibetan Border Police (ITBP).
The Maoists blew up a jeep these men were travelling in while passing the Kahoka village in Manpur. The area is 120 kilometres from the district headquarters Rajnandangaon, Chhattisgarh.
Incidentally, newly appointed CRPF Director General K Vijay Kumar is on a two-day visit to Chhattisgarh at the moment taking stock of the situation in the state where 14 companies of CRPF are deployed in anti-Naxalite operations, particularly in hyper-sensitive areas of the Bastar division, reports Indian Express.
Rajnandgaon district Superintendent of Police Badri Narayan Meena said: "The incident took place before noon when Naxalites apparently triggered a landmine, targetting a jeep in which the ITBP personnel were travelling."
Police sources said the incident took place just a few yards from the Kahoka police outpost where the rebels had sunk a landmine near a culvert. The jeep was blown up, killing three the three identified as Dilip, Dinesh and Shibu. One personnel has sustained serious injuries in the blast.
Since it was deployed in the Rajnandgaon district's Naxalite areas -- bordering Gadchiroli of neighbouring Maharashtra – the ITBP has been on an area-domination mission besides trying to win over the confidence of local villagers by taking up and supporting many development initiatives.
Maoists have been specifically targetting para-military personnel in Chhattisgarh ever since rebels inflicted heavy causalities on the Central Reserve Police Force (CRPF) on August 6 near Tadmetla in Dantewada district where 76 security personnel – 75 from the CRPF -- were killed in a major ambush. Subsequently, the rebels unleashed a few more attacks on the CRPF and also tried to open fire near CRPF camps in Bastar in an apparent attempt to demoralise the paramilitary force.
After mounting pressure on the CRPF, the Maoists turned focus on the Border Security Force (BSF) in Kanker district where they killed three and two others in an ambush near Bhuski village.