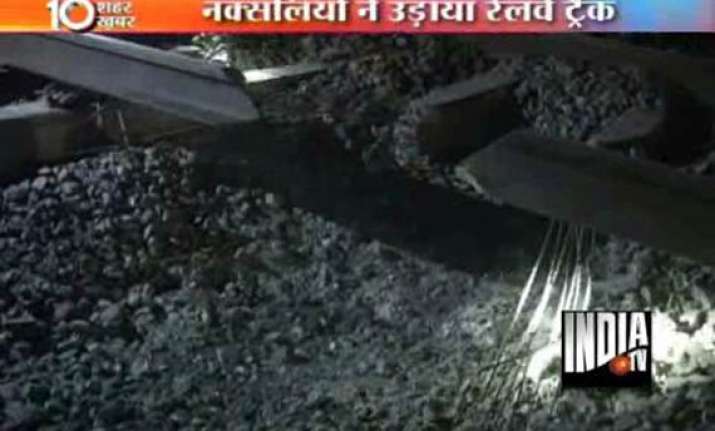 Ranchi/Patna/Bhubaneswar, Dec 5 :  In continuing attacks on railway and government properties, Maoists in Jharkhand on Sunday night blew up a rail track near Matari, a few km away from Dhanbad and disrupted rail traffic on the key Delhi-Howrah route.

Most of the long-distance trains have been stranded at Gaya and Asansol and are waiting track clearance.Several trains were stranded on the route on both sides. Eight trains were stopped at Asansol after the incident.

Major trains which have  been stopped are—Kalka express, Jodhpur express, Shipra express and Mumbai Mail.

Maoists began their two-day country-wide shutdown in protest against the killing of their top leader Kishenji by blowing up railway tracks in Jharkhand and setting afire a mobile tower in Bihar's Aurangabad district.

On Sunday evening, a group of heavily armed Maoists attacked a CRPF camp in Dumariya area near Gaya. Six personnel were injured in the attack.
Vehicular traffic came to a halt and markets remained shut in several Naxal-hit regions of Odisha on the second day of the two-day country-wide shut-down called by the rebels.

Impact of the bandh, called by the red rebels to protest the killing of their top leader Kishenji, was felt in several places in districts like Malkangiri, Rayagada, Gajapati, Sundargarh and Kandhamal.

Passengers faced a tough time as buses and other vehicles remained off the roads in most Maoist-hit areas including Malkangiri, Rayagada and Sundargarh for the second day today, police said.

Shops and business establishments remained closed in Kalimela, Motu, Padia and Chitrakonda areas of Malkangiri district and remote places and areas bordering Jharkhand in Sundargarh district, they said.

Security was tightened in all Maoist-hit districts as a precautionary measure, while force deployment was strengthened near jails, armouries and government buildings, a senior police official said.

Patrolling was intensified in vulnerable areas and borders with neighbouring states like Chhattisgarh, Jharkhand, Andhra Pradesh and West Bengal were sealed amid thorough checking of vehicles, he said.

While a high school hostel had been destroyed by the ultras on the first day of the bandh yesterday in Malkangiri district, no untoward incident was reported from any place of the state so far today, police said.