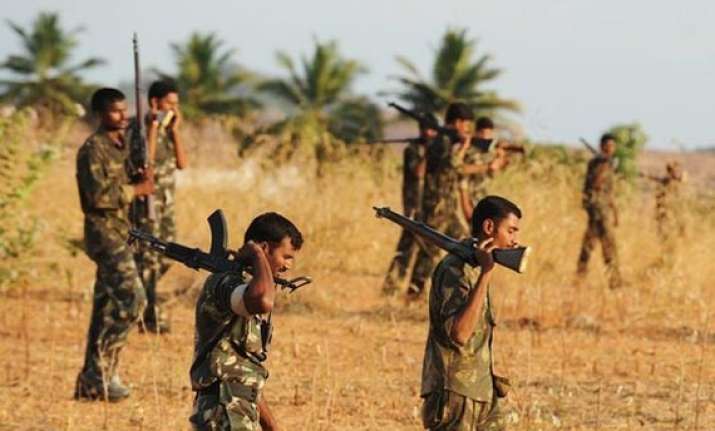 Raipur, May 29: An all-out anti-Naxal operation involving specialised forces like CoBRA and Andhra Pradesh's Greyhounds will begin soon in the deep jungles in Chhattisgarh in the wake of killing of 27 people, including Congress leaders.
The decision was taken on Tuesday at a high-level meeting chaired by Union Home Secretary R K Singh and attended by Chhattisgarh Chief Secretary Sunil Kumar, Director General of Police Ramniwas and other senior Central and state officials.
The fresh multi-pronged offensive involving multiple forces will be launched from various points of Chhattisgarh, Andhra Pradesh and Orissa simultaneously, ahead of which a combing operation will be conducted by Unmanned Aerial Vehicles, a senior official told PTI.
The operation will be quite similar to that conducted in AbujMad forests last year in which paramilitary forces had combed the entire jungle and every movement of every team was tracked with satellite.
"The all-out operation will be from multiple directions involving specialised forces of Central and state governments," the official said.
However, the Union Home Secretary ruled out involvement of Army personnel in the operation and said the number of paramilitary forces would be increased.
"We will not involve the Army. There is no need to call the Army. Neither have we asked them. But we will send more (paramilitary) forces," he told reporters here.
The Home Secretary, who is on a tour of Chhattisgarh to review security situation in the wake of the deadly attack on Congress' leaders, said the Maoists were on the back foot even in areas like Gadchiroli district in Maharashtra, some areas in Odisha and security forces in these states were coordinating with each other to fight the Naxals.
"There is inter-border movement of Maoists. This is such terrain -- Chhattisgarh, Jharkhand, Odisha -- where there is poor communication. So, they often sneak into another state from one state. Our operations will continue and will be further intensified," he said.
In New Delhi, Union Minister of State for Home R P N Singh also said anti-Naxal operations will be intensified in the aftermath of the Maoist attack on Congress leaders and ruled out holding peace talks with the extremists unless they abjure violence.
Singh said Maoist "barbarism and cold-blooded murders" have peaked in the last six months and there was an urgent need to re-look the policy dealing with Naxals.
"Maoists have no respect for human rights. There is a need to re-look the policy dealing with Naxals. There will be more active operations," he said.
Singh said when former Home Minister P Chidambaram had announced the offer of dialogue to Maoists, they did not come forward and hence time has come to review the situation.
"They are not interested in talks or following the democratic process. There will be no talks unless they abjure violence," he said.