Follow us on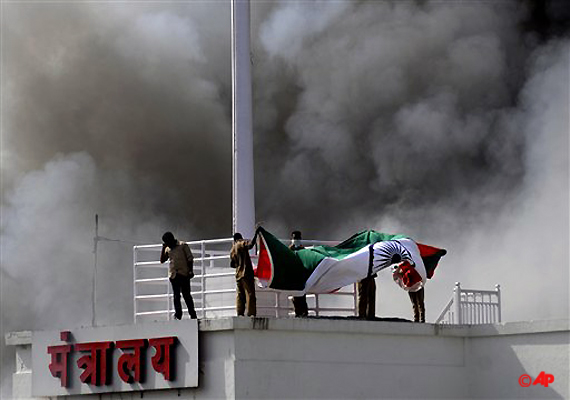 Mumbai, Jun 23: The bravehearts, who lowered the national flag atop Maharashtra state secretariat when it was engulfed in a massive blaze, were felicitated here today.
For Suresh Baria and his colleagues, the flames, which were beginning to leap towards the national flag that fluttered atop the structure of the secretariat, were no deterrent as they went ahead with their job, that of lowering the flag in the evening.
Baria and his six colleagues responsible for hoisting, lowering and the overall safety of the national flag, which is 14 by 21 feet in dimension, were honoured at the BJP office in South Mumbai.
Leader of the Opposition in Legislative Council Vinod Tawde said his party would bear educational expenditure of the children of the seven bravehearts.
And at a time when everyone else around them was running towards the exit, Baria and his team had chosen to stay right beside the flag, refusing to budge until they were given orders to lower the flag safely.
All Class IV employees of the PWD department, they stayed put for two hours on the terrace of the Mantralaya building, waiting for orders to lower the flag.
They later pulled the flag down, folded it as per the guidelines and safely tucked it away in a special room.
"Every morning, the flag is hoisted at 6.05 am and lowered at sunset. When the fire broke out, we were standing right beside the flag and waiting for the orders. We could see our colleagues from the lower floors being rescued by the fire fighters," Baria said.