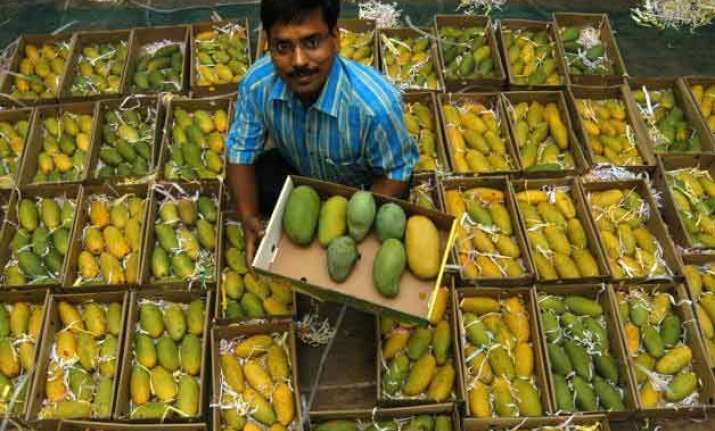 Lucknow: Mango production in Uttar Pradesh may shrink to almost half at 43 lakh tonnes due to unseasonal rains accompanied by hailstorm and strong winds in past four months, industry body Assocham has said.
"Mango production in India might decline this year by 35-40 per cent due to crop damage following unseasonal rain in major growing states," according to a study conducted by the industry chamber.
With a share of over 23 per cent, Uttar Pradesh is ranked among India's leading mango producing states, followed by Andhra Pradesh (15 per cent), Karnataka (9.5 per cent), Telangana (nine per cent) and Bihar (seven per cent).
"However, mango production in UP had declined by two per cent year-on-year from about 44 lakh tonnes in 2012-13 to 43 lakh tonnes in 2013-14 while it had increased across India by 2.4 per cent during the same period," the report said.
Lucknow, Pratapgarh, Allahabad, Bulandshahar, Saharanpur, Faizabad, Varanasi, Moradabad, Barabanki, Meerut, Unnao, Sitapur, Hardoi, Gorakhpur, Basti, J P Nagar and Mathura are the major mango producing belts in UP.
Chausa, dashehari, fazli, gulab khas, langra, mallika and amrapali are certain varieties of mangoes produced in the state.
"Considering that crops in almost all leading mango producing states had faced nature's wrath early this year, mango will taste bitter to domestic consumers as its prices are likely to swell by as much as 50 per cent and might even go up to 65 per cent in some pockets," said Assocham's Secretary General D S Rawat.
"Relief measures announced by various governments for farmers are proving to be insufficient to help them overcome their losses and also curb rising prices, thus more needs to be done in this behalf," he added.
India's mango exports might also go down significantly this year from a level of over 41,280 million tonnes (MT) worth about Rs 285 crore which were exported to major destinations like United Arab Emirates (UAE), United Kingdom (UK), Saudi Arabia, Kuwait, Qatar and United States of America (USA) in 2013-14.
Exports of mangoes from India have declined by about 26 per cent from 55,585 MT in 2012-13 to 41,280 MT in 2013-14, however, in value terms it has risen by about eight per cent from Rs 265 crore in 2012-13 to Rs 285 crore in 2013-14.
UAE alone accounted for over 60 per cent of India's total mango exports, followed by UK (16 per cent), Saudi Arabia (four per cent), Kuwait (three per cent) and Qatar (two per cent).