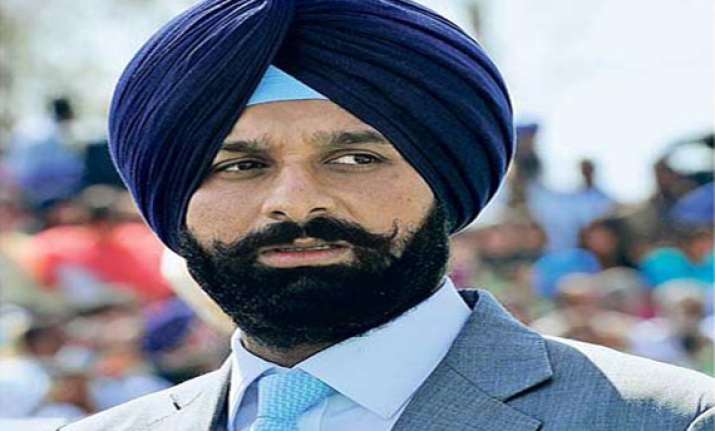 Amritsar: Punjab Revenue Minister Bikram Singh Majithia, who was handed out religious punishment for distorting a Sikh hymn by incorporating BJP candidate Arun Jaitley's name in it, today performed 'Sewa' (religious service) at Takhat Sri Keshgarh Sahib in Anandpur.
He dusted shoes, washed the utensils and listened to the Gurbani Kirtan inside the vast campus of the Takht.
The Minister is undergoing the 'tankhah' (penance) following highest temporal seat of the Sikhs—Akal Takht's recent verdict after he was indicted by the five Takhat's Jathedars for distorting the religious hymns of tenth Sikh master, Guru Gobind Singh.
The Jathedars of the five Takhts pronounced religious punishment to Majithia on May 1 for his "blasphemous act".
Majithia was directed to undergo Sewa (religious service) at all five Takhts and at Akal Takht Amritsar.
The decision to award religious punishment to Majithia was taken at a meeting of Sikh clergy headed by the Jathedar Akal Takhat (Amritsar) Giani Gurbachan Singh.
Majithia during an election campaign in favour BJP candidate from Amritsar Lok Sabha seat Arun Jaitley distorted the 'shabad' (hymn) of Guru Gobind Singh.
The Sikh bodies reacted in anger and urged the Jathedar Akal Takht to hand over severe punishment to Majithia so that nobody could dare to repeat such a thing in future.  Jathedar Gaini Gurbachan Singh had pronounced the decision in the presence of Majithia at Akal Takht.
The Sikh clergy while pronouncing religious punishment had directed the Minister to perform religious service in the community kitchens of five Takhts including at Amritsar, Patna Sahib, Takht Sri Kesgarh Sahib in Anandpur Sahib, Takht Sachkhand Sahib at Abchal Nagar in Nanded and Takht Dam-Dama Sahib at Talwandi Sabo in Punjab.