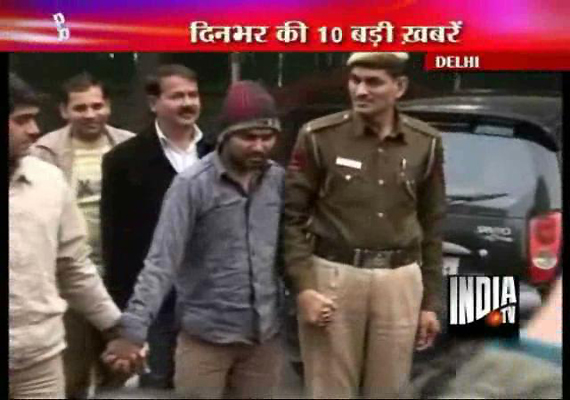 New Delhi, Feb 11: Raj Kumar alias Mohd Dilshad, the man, who left baby Falak with his teenaged girlfriend, was arrested here early this morning with police claiming that he wanted to adopt the two-year-old girl as his son was very sick.

32-year-old Raj Kumar was apprehended from New Delhi Railway Station after analysing his bank transactions and information provided by informers, Chhaya Sharma, Deputy Commissioner of Police (south), said. Police have also arrested one Pratima in connection with the incident.

The case which came to light in January last week had its twists and turns and police have arrested a total of ten persons.

Falak was brought to the AIIMS Trauma Centre on January 18 with severe head injury, both her arms broken, bite marks all over her body and her cheeks branded with hot iron.

Falak's mother Munni was tricked into a second marriage by three women out of which two—Laxmi and Kanta choudhry—were arrested. The trio had promised that her three children will be taken care of.

"We knew that Raj Kumar was having bank accounts in HDFC and ICICI. His bank statements were analyzed on daily basis to know the possible withdrawal of the money from the bank. Help of informers was also taken to locate and apprehend him," Sharma said.

During interrogation, Sharma said, he told police that he wanted to adopt Falak as his own child was very sick. "He thought he will have Falak with him and his wife while his own child will be with his in-laws. There is no angle of trafficking," she said.

Raj Kumar claimed he was offered the baby by his friend Manoj and his wife Pratima on October 13 last year. He had taken consent of his wife Tabbasum and his in-laws. He kept the baby at his house in Dwarka Sector-8 till November 15.

"His wife had doubts about his extra marital relations. They fought over this and she went to see their ailing child on November 15. During that period, he brought the teenaged girl to his house and stayed there till December 28.

"He had met the girl at the house of Arti and Rana in Munirka. They were earlier arrested in the case. Raj Kumar is a taxi driver. His taxis were used by Arti, Rana, Rahul and others. In that process, he came across juvenile girl and on her request he shifted her from the house of Arti and Rana. He pretended to marry the girl and stayed with her like husband and wife," Sharma said.

On return of his wife from Mumbai, he shifted the girl to one of his acquaintances' house at Sangam Vihar. On January 12, he left her in a rented accommodation in Mahipalpur and a day later, he left for Mumbai to see his ailing son.

"Being a minor herself and inexperienced she could not take care of the baby perfectly. She was in continuous contact with Raj Kumar on his mobile and once he came to know that the baby was hurt he also advised her to take her to hospital," Sharma said.

One of the sisters of Rajkumar is married in Mumbai and he used to stay with his sister. During his stay at Mumbai, he came in contact with Tabbasum.

He got married in the year 2006. From this wed lock, he has a son. After marriage, he shifted to Delhi and started working as a mechanic in Sangam Vihar.